IMPORTANT DATES AND EVENTS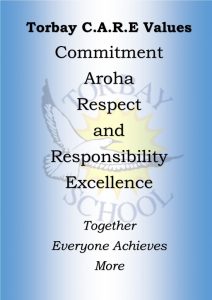 Torbay School Learning Powers – RIC

PRINCIPAL'S MESSAGE 
Welcome back to term 3. The school looks significantly different than it did at the beginning of our holiday. Our contractors have worked extremely hard to complete the demolition of our classrooms and the excavation for our new carpark during the break. They have done an excellent job and while the work has continued into this week they have completed an incredible amount of work in this short time reducing the inconvenience to the school.
As pointed out in earlier messages, parking and traffic will be a challenge as our carpark is out of action for this term and possibly a little of term 4. This will impact traffic in the mornings and at the end of each day. I thank you for your efforts to find alternative methods such as walking to get your children to school and your patience as the works at school continue. It is very exciting to see the plans we have made finally coming to fruition and I look forward to being able to benefit from the changes we are making.
Whānau Feedback
Later in the newsletter our Whānau Feedback evening is advertised. Please ensure that you make an appointment with your childs teacher.
Crèche
Please be aware that there is a crèche available on Whānau Feedback evenings. The crèche will care for your younger children while you have your meeting with the teacher. If your child is not attending the meeting they also can attend the crèche. The crèche will be located in the school Library.
Scholastic Book Fair
Please support our book fair which is on now and is located in the office foyer. This is a great way to ensure you have books in your home for your children and also support the school at the same time. Every sale brings a contribution to the school from Scholastic.
Nathan Wallis
Nathan Wallis is a neuro scientist who is both informative and entertaining to listen to. He will help unravel some of the myths about how children learn and fill out the science that supports some of our modern approaches to learning. His talk will help explain why play based learning (Wā Kitea) is a very positive approach to learning in our early years. I urge you to buy a ticket and come along to this talk that is being promoted by our PTA.
It will be held on Thursday 26th August at 7.30pm at Torbay School. Tickets are on sale now go to https://www.eventfinda.co.nz/2021/engage-your-brain-auckland/auckland/torbay to purchase your tickets.
Thank you so much for your support of everything we do here at Torbay School. Please do not hesitate to contact me about any matter.
Ngā mihi nui
Gary O'Brien
Principal
[email protected]
SCHOOL NOTICES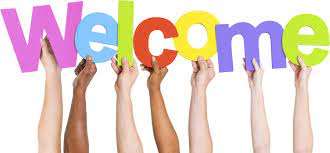 WELCOME TO TORBAY A warm welcome to all of our new learners and their families who have joined Torbay School in Terms 2 & 3. 
TERM 3 WHĀNAU FEEBACK EVENINGS – We will be holding Whānau Feedback evenings on the following dates: 
Tuesday 3 August: Yr 1-6 – 2:45pm to 8pm

Wednesday 4 August: Yr 1-6 – 2:45pm to 5:30pm
On both Whānau Feedback days all students will be dismissed from the hall at 3pm. Year 1 and 2 students will need to be collected by their caregiver from the hall at 3pm. 

Student attendance at Whānau Feedback appointments is optional – you may wish to bring your child but it is not necessary. 

For safety reasons we ask that you do not leave your children to play on the playground or roam the school grounds while you attend your appointment(s).

Any children at school during this time must be with their parents or in the crèche provided in the library.

Bookings/changes for Whānau Feedbacks can be made until 11am on the day of the booking. If your circumstances unexpectedly change after 11am and you can't make your appointment that day, please call the office so we can advise the teacher of the late cancellation. 

Scholastic Book Fair is being held in the office foyer (29 July to 4 August 2021) and will be open late for parents and students to visit on our Whānau Feedback nights. 
We will be using an internet booking system (www.schoolinterviews.co.nz) to book appointments.   The booking code is 2645n. If you do not have access to the internet to make a booking, please phone the office on 473 8603 ext 2 between the hours of 10am to 2.30pm to arrange this.  
MEETINGS – The next B.O.T Meeting will be held on Wednesday 11th August @ 7pm in the Staffroom. The next New Parent Meeting will be held on Monday 30th August at 9.30am in the Staffroom.
Y4 MOTUIHE PRESENTS WHOLE SCHOOL ASSEMBLY –  Will be held on Thursday 26th August @ 2pm. All welcome! 
KĀHUI AKO TEACHER ONLY DAY – As part of our Professional Learning for this year we will be having a Teacher Only Day on Friday 27th August. The school will be closed for learners on this day. Fun Club will be open. Please contact Sandie or Thelma on 021 399 626 or visit  https://www.afterschoolfunclub.co.nz/ to book in.
2021/22 ENROLMENTS – If your child or someone you know has a child who lives in the Torbay School zone and who is turning 5 next year please urgently complete an enrolment application (available from our website or at the school office).
TORBAY SCHOOL SPORTS HOODIES –If you ordered a sports hoodie, these have been handed out to your child. 
PHOTOLIFE CLASS, PORTRAIT & SIBLING PHOTOS –  If you have purchased photos these have arrived and have been sent home with your child.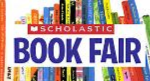 SCHOLASTIC BOOK FAIR – Don't forget to pop on over to the Scholastic Book Fair, it runs from Thursday 29th July through to 10.30am Thursday 5th August in the Office Foyer.  Open during office hours – 8:30am – 3:30pm with late nights on Whānau Feedback days – Tues 3rd Aug til 8pm and Wed 4th til 5.30pm. It's the perfect opportunity to buy your child a book to read at home!  All sales will assist our school library as Scholastic donates a percentage of all sales to our school! 
SCHOLASTIC LUCKY BOOK ORDERS – ISSUE 5 – Lucky Book order forms have gone home. The closing date for orders is Friday 13th August at 3pm. Orders can be done online at https://mybookclub.scholastic.co.nz/Parent.aspx Thank you for your support.  Every order helps the school get valuable resources for our School.
ENROLMENT AT NORTHCROSS INTERMEDIATE FOR YEAR 6 CHILDREN: Y6 children will be visiting Northcross on Tuesday 10th August from 9am to 1pm for orientation.  A Parent Information Evening will take place on Wednesday 18th August starting at 6pm at Northcross Intermediate.  A notice will be sent home with the Year 6 children soon giving full details of the enrolment events. In the meantime for further information you can visit the Northcross Intermediate website.
UPCOMING PTA EVENTS – School Disco Friday 20th August Y0-3 Juniors 6-7pm, Y4-6 Seniors 7.15-8.30pm. More info to come home soon.  Nathan Wallis Thursday 26th August 7.30pm in school hall see flyer and how to purchase tickets in the PTA section below. Quiz Night  Saturday 4th September Doors open at 7pm, starts 7.30pm max 10 per table. If you can only get a few buddies together (less than 5), not to worry, email the PTA at [email protected] and they will do their best to put you in touch with others to make up a table! Check out the flyer below for more info.
WALKING SCHOOL BUS – 'Try a Walking School Bus' Thursdays in Term 3.  Come along and try the walking school bus in your area!
Thursday  5th August  : Alexander Ave – leaving outside #41 at 8.20am
Thursday 12th August: Deep Creek North – leaving St Mary's by the Sea church at 8.10am
Thursday 19th August: Deep Creek South – leaving corner of Holt Ave & Deep Creek Road at 8.20am
Thursday 26th August: Waiake – leaving corner of Waiake St and Beach Rd at 8.10am.
Join us to walk to school (or drop off your child if there are enough adults walking at 1:8 ratio). Meet at the leaving point or join us along the way. If raining hard, we will postpone to the following Thursday.
All participating children receive a Walking School Bus bag tag!
CHESS AT TORBAY SCHOOL – Mondays from 26th July at 3.10pm – 4.10pm, see flyer for more info.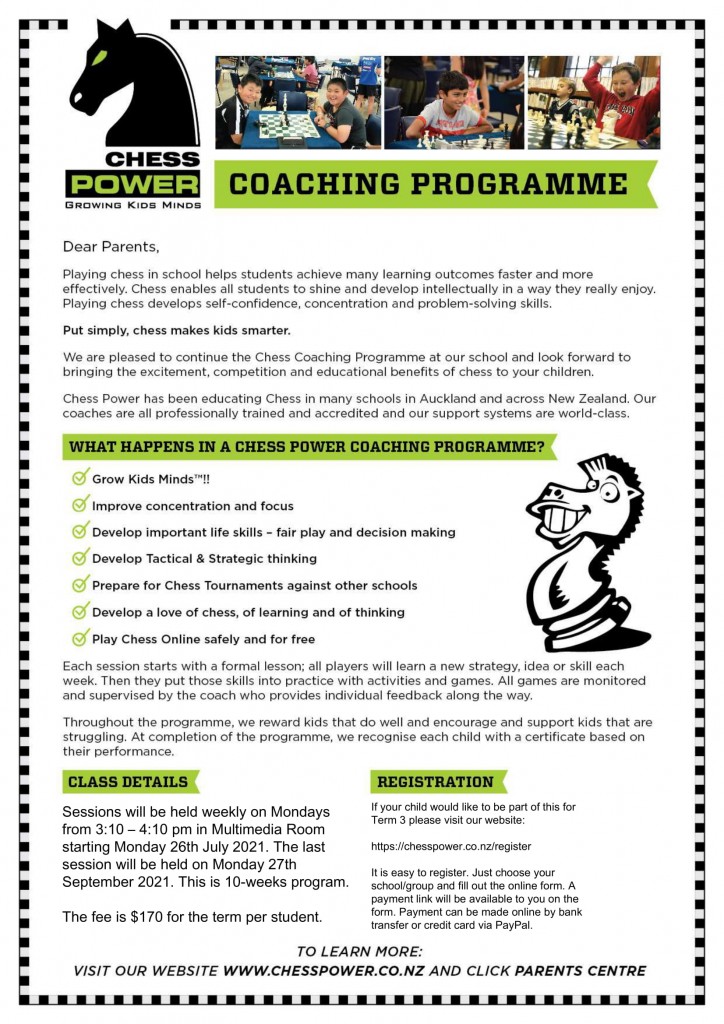 GENERAL REMINDERS 
SCHOOL FEES 
A reminder that if you are paying off your annual activity fees and donations – instalment 3 was due on the first day of term.
Donation (1 child) $45 per instalment
Donation (2 children) $80 per instalment
Donation (3 or more children) $107.50 per instalment.
Electronic statements will be sent out tomorrow showing any unpaid amount on your account (the system automatically sends these with the email subject line of Request for Payment). This is a chance to check that our records agree with yours. Please contact [email protected] if you have any queries.
PAYMENT OPTIONS 
Payments can be made by cash/cheque, EFTPOS, credit card (add $1) at the school office, or electronically through our online shop. This can be reached through the SHOP button on the school website's homepage www.torbay.school.nz.
RECEIPTS
Also a reminder that the school's receipt policy is to only issue receipts for donations, school fees paid by cash or on request.
SCHOOL LUNCHROOM – The School Lunchroom is open on Wednesdays, Thursdays and Fridays.  
SCHOOL ABSENCES –  

Please remember to contact the school office if your child is going to be absent from school.
You can do this by one of the following:
Below are Torbay's School Uniform items – please ensure that students are following these requirements. 
Please note:
School bucket hats (Black or Blue) are compulsory Terms 1 and 4.
Students are permitted to wear any tidy plain black leggings, skirts, skorts, trousers or shorts – NO denim jeans/skirts/shorts.
Plain sensible shoes (such as sneakers or sandals) that the student can put on/take off themselves preferably black or white in colour – No boots, crocs or jandals/thongs.
Socks are to be plain black, blue or white socks – NO long socks.
Students can wear plain black, blue or white short sleeve thermals or singlets under their school polo in winter months.
All uniform items are to be clearly named.  Student's name can be embroidered under the logo (or on the back of hats) in black, yellow or white cotton on school uniform.  Contact the school office for further clarification.
PTA
NATHAN WALLIS – Thursday 26th August at Torbay School 7.30pm. Early bird tickets are on sale now for a limited time to our school community only, go to https://www.eventfinda.co.nz/2021/engage-your-brain-auckland/auckland/torbay to purchase your tickets.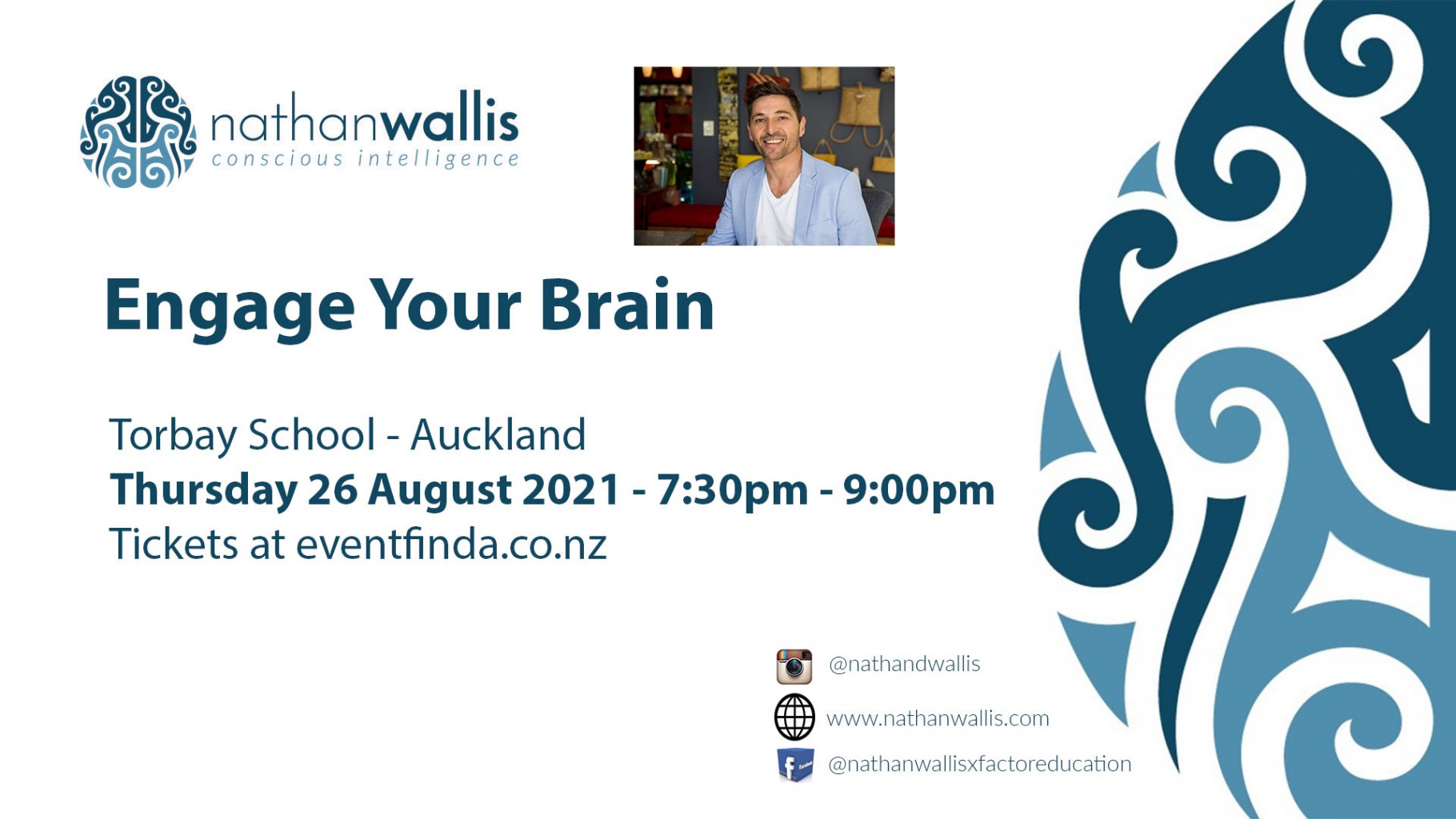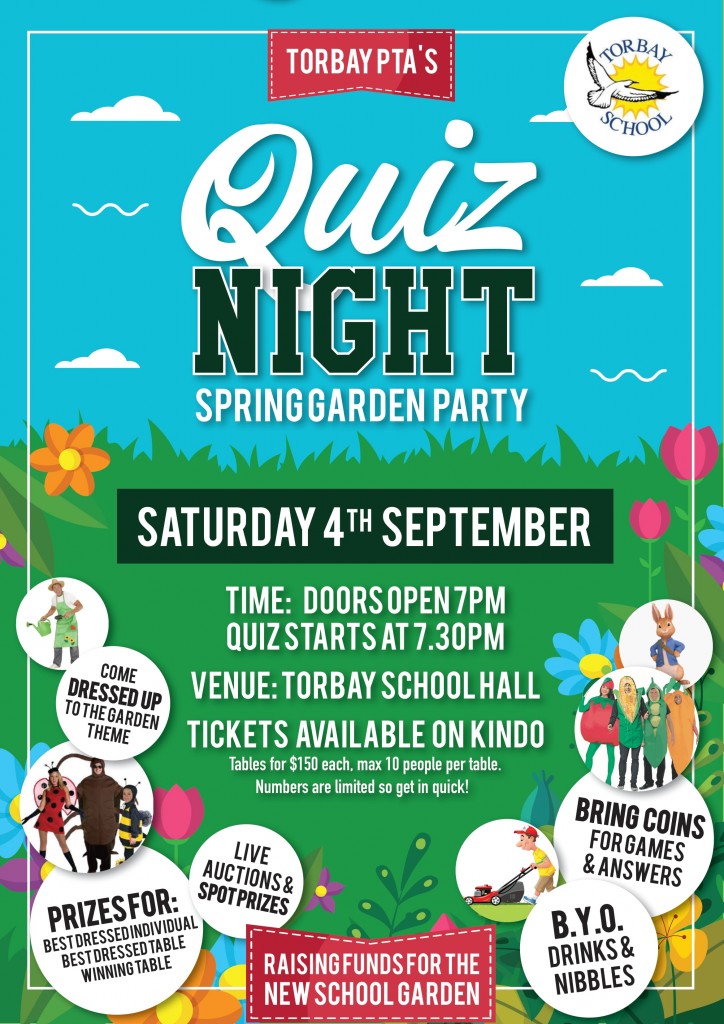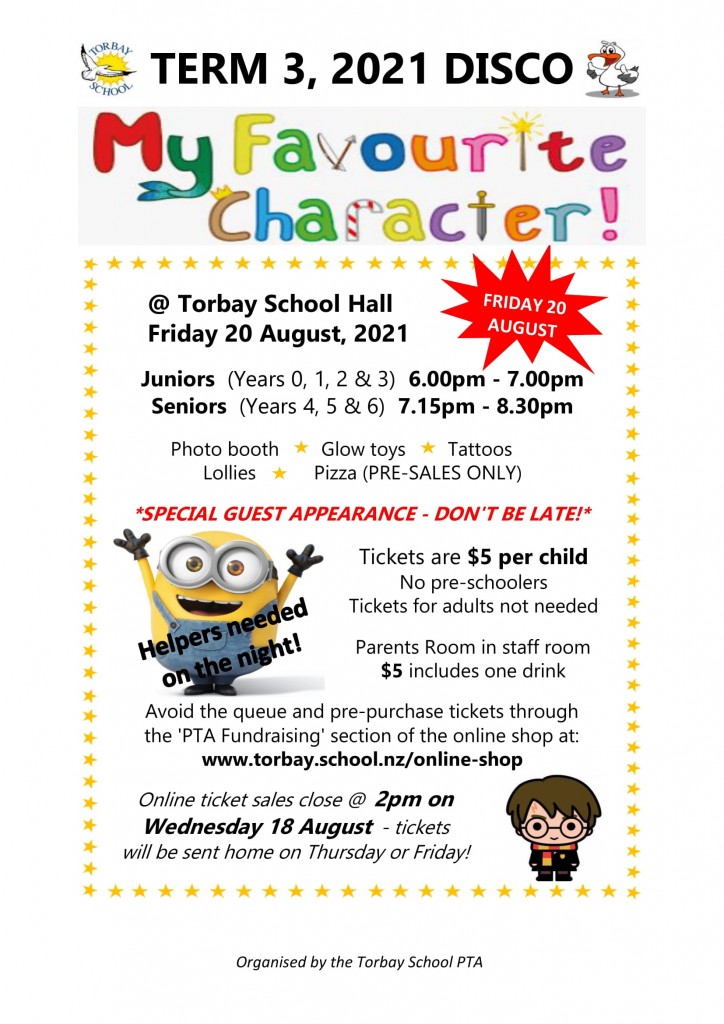 ADVERTORIALS
Disclaimer: The following advertisements are placed as a community service – publication does not imply Torbay School endorsement.
---

---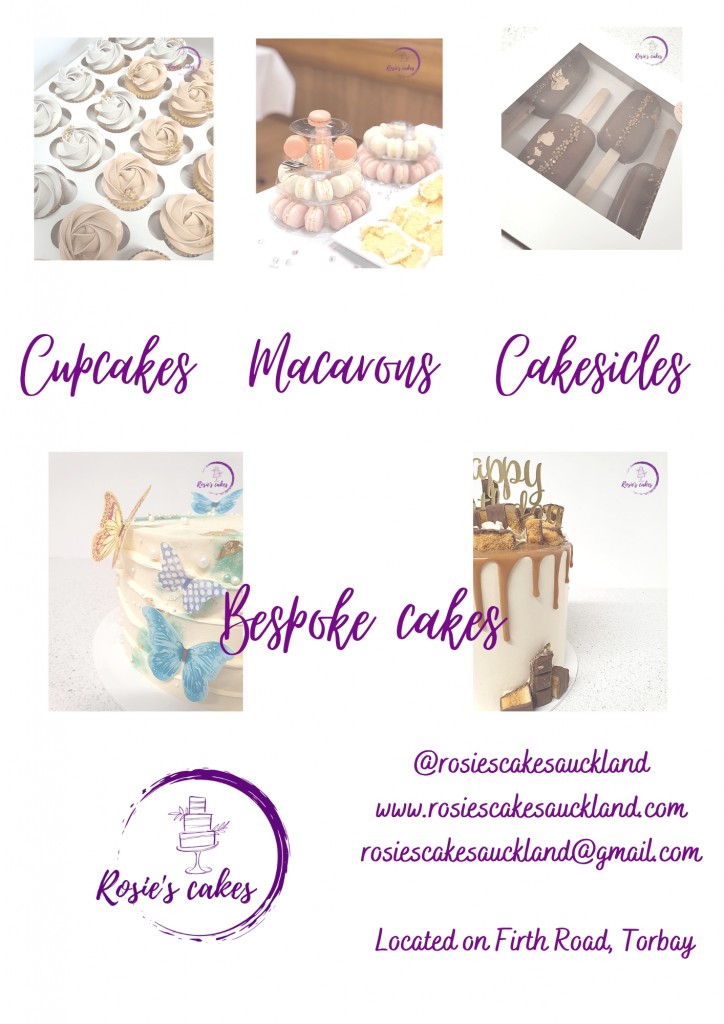 ---
Professional Tutoring: Math's, Reading, Writing and Spelling, I have over 15 years teaching experience especially encouraging students who are struggling to succeed.
*Homework help
*Structured Learning Environment
*Programmes to help with Dyslexia & Learning Difficulties.
*Warm and Friendly
*Small Groups/Individualised Work
Extraordinarykids.co.nz Yvette Walton NZ Registered Teacher, 022 34 11716 [email protected]
Please see my web page for testimonials, more information and a list of available spaces.
---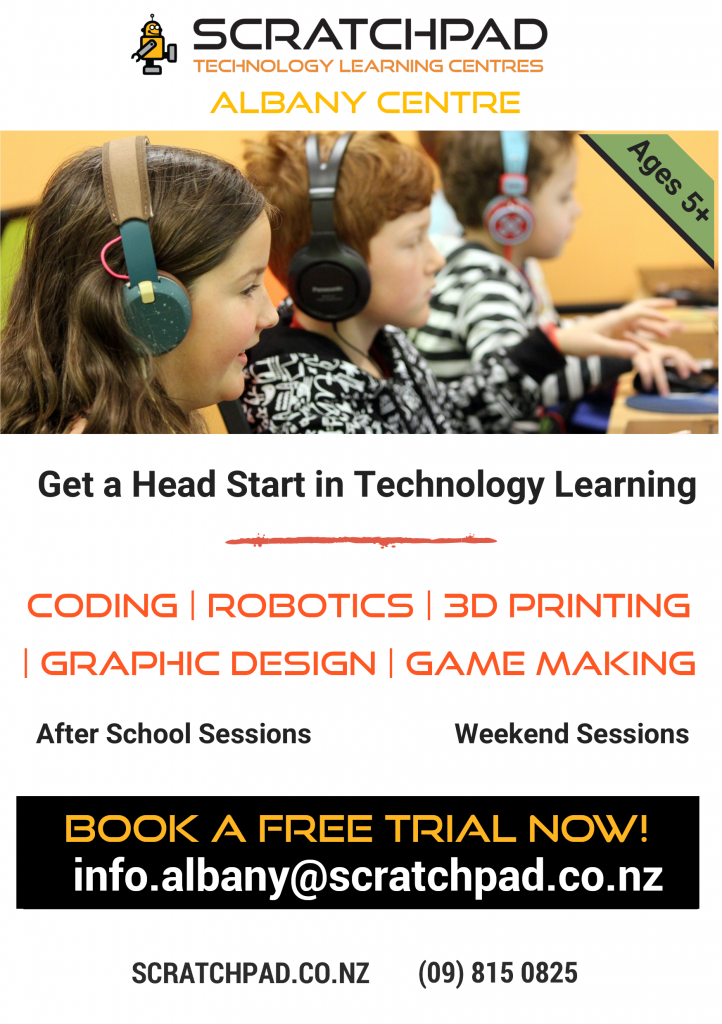 Print or Save this Post