What is Literacy about?
Literacy is about learning to use, create and enjoy the Literacy language in all its forms – oral, written and visual communication.
How is Literacy structured in the New Zealand Curriculum?
Literacy is structured into two interconnected strands:
Making Meaning  |  listening, reading and viewing.
Creating Meaning  |  speaking, writing and presenting.
Students need to practice making meaning and creating meaning at each level of the curriculum.
How is Literacy taught at Torbay School?
We believe that our students need to practice making and creating meaning for the following purposes:
To Entertain
To Inform
To Instruct
To Persuade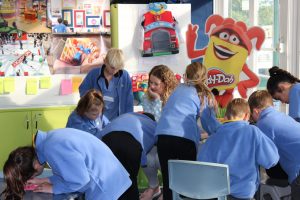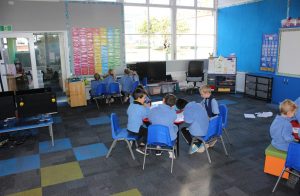 At Torbay School we believe competency in Literacy is crucial for our students to access and succeed in other learning areas. As a result Literacy is a priority area throughout the school. Reading and Writing is taught daily, and spelling, handwriting and oral language is covered throughout the week.
Teachers will explicitly teach the necessary skills for students to work towards developing independence when making meaning and creating meaning from the Literacy language. Integration across the curriculum will provide a context for learning, when appropriate. Teachers will place an emphasis on building depth of understanding within each strand and mode (listening, reading, viewing, speaking, writing and presenting). Literacy programmes will become increasingly challenging to build on prior learning. Teachers will provide opportunities for all students to practice, consolidate and extend their understandings on a daily basis.
Students will be immersed in a literacy rich environment that provides motivation, quality teaching, modelling and celebrates their learning.
Students will be taught in ways that best cater for their specific learning needs as identified through a range of formative and summative assessments. Students that have been identified as not achieving will be catered for through support in Reading Recovery, Learning Support, IEP's and support from appropriate outside agencies (Rt-Lit., RTLB, Speech and Language Therapy etc)
Teaching and learning is supported by shared learning intentions

Appropriate teaching and learning resources, equipment and games will guide and enhance the teaching and learning of Literacy

Provide a balanced programme that addresses student needs, builds on prior knowledge and provides opportunities to use new learning within other contexts and/or learning areas

Students will be accurately assessed and taught to meet their learning needs at the appropriate level

At risk students are identified and are provided with appropriate support

All classes will have enriching and productive learning environments and established routines and expectations

Gaps in learning will be identified at all levels and appropriate programmes developed within the classroom
The Torbay School Literacy programme will:
Be delivered a minimum of four times per week for at least 90 minutes

Be timetabled into the morning sessions

Be linked to other learning areas where appropriate

Provide opportunities for our students to make and create meaning to entertain, inform, instruct and persuade

Provide time for new learning, practice and consolidation of knowledge and strategies

Integrate practical, authentic and relevant contexts where appropriate

Equip students with life skills in order to effectively communicate

Ensure students are active in their learning through knowing what they are learning and the purpose of their learning

Encourage our students to have a love of language in all its forms

Students' needs are identified and differentiated programmes are provided

Share and celebrate children's achievements

Provide an environment that is rich in text

Integrate ICT tools and Thinking Skills to enhance teaching and learning across all language strands, as appropriate
Best practice in Literacy at Torbay School ensures teachers will:
Follow appropriate guidelines within Effective Literacy Practice in Years 1-4 (MOE 2003) and effective Literacy Practice in Years 5-8 (MOE 2006)