IMPORTANT DATES AND EVENTS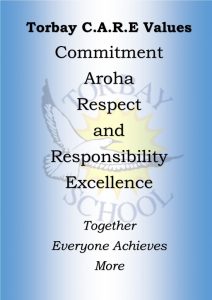 Torbay School Learning Powers – RIC

MESSAGE FROM OUR PTA
Tēnā koutou katoa
Last year the PTA asked you what you would like to see us put our fundraising efforts towards and you returned two key messages; upgrading the school pool facilities as well as providing more space around the school that focused on learning and appreciating the importance of our environment.
The PTA happily agreed a focus on the school pool however as 2020 did not quite turn out as planned, any fundraising initiatives were often put on hold as we all attended to the needs of keeping one another safe from Covid 19.
This year, the PTA have decided that they will continue their efforts and put focus on two key priorities, both upgrading the facilities of our school pool and helping the school build new gardens for our Garden to Table program.
There is much work to be done to achieve these two goals, both fundraising and physical work.  Shortly we will be erecting a sign in the School Drop Off zone sharing with the community our fundraising target and where we are in reaching that goal as we progress.  The PTA will be looking to raise $45,000 this year to go towards these two initiatives and I am hopeful that you will continue to support us in reaching that target by participating in and getting behind the many fundraising activities we have planned for this year. 
Another great way that you can help is by joining the "working bee" in Term 3.  This "working bee" will meet during a few weekends over August and September to help with the physical work that will be involved in the school pool facelift and the building and planting of the gardens.  We have a fantastic plan as to how the gardens will be presented, including vegetable gardens, green houses, citrus trees, park benches and more.  For the Pool area this will involve water blasting, cleaning, replacing and painting.  The more we have to help out, the more likely we will be to have these finished in time for Term 4, ensuring our students can really enjoy both of these in time for summer.
Let's bring the community together and get involved in these two great initiatives.  Please reach out to me or if you are likely to be able to assist in any way. We look forward to working with you, the school community, to reach our goals.
Ngā mihi nui, 
Melissa Clark
Chairperson Torbay School PTA
ACCOMPLISHMENTS 
KA PAI to the following students who have shared their fantastic learning with us this week: Yulia, Luca and Zoe Rm 4, Hunter Rm 7, Avleen, Lily, & Edith Rm 8, Elijah B & Henry M Room 10, Marly & Calum Room 11, Awesome work! 
CONGRATULATIONS to the following tamariki who received certificates from their class teachers: Charlotte & Hannah Rm 1, Celine, Indiana, Baxter & George Rm 3, Toby, Bella, Sofia & Emma Rm 4, Dylan, Harley, Juliet & Hannah Rm 5, Ollie B, Milla, Mia H & Morgan Rm 6, Joni, Samantha, Jay & Megan Rm 7, Charlie, Joshua, Travis & Lily Rm 8, Matthew, Lexi, Michaela & Lottie Rm 9, Lara, Martin, Mia & Tom Rm 10, Charneli, Connor A, Poppy & Alex Rm 11, Rubi, Luke, Sophia & Chris Rm 12, Jack H, Naomi, Levi & Aven Rm 13, Madison, Coby, Mihai & Ella Rm 14, Jamie, Anora, Reuben & Peyton Rm 15, Jake, Alfie, Amelie & Louritz Rm 16, Ronan & Sarah Rm 17, Bree, Ben, Ceci & Tristan Rm 18, Brayden, Skyla, Casey & Zephyr Rm 19, Tristan, Sophia, Eddie & Spencer Rm 21, Enoch, Connor & Jared B Rm 22, Finn, Johanna, Salesi & Sophie V Rm 23, Zeke & Gwynnie Rm 24 Well done!!
Yummy Sticker Collection Sheet Certificates: Jayin Rm 8, Rooms 15 & 16, Bianca & Xulia Rm 23, Oliver Rm 24 Ka Pai guys! 
A SPECIAL THANKS – to Michelle & Chris Petry for donating a new Nespresso machine for our staffroom (it has been well used already!) and thanks to Nespresso for supplying a selection of coffee capsules too!
SCHOOL NOTICES
MEETINGS – The next New Parent Meeting will be held on Monday 14th June at 9.30am in the Staffroom. The next B.O.T Meeting will be held on Wednesday 30th June @ 7pm in the Staffroom.
ANZAC ASSEMBLY -Thanks to all that came along to our ANZAC assembly on Friday, it was lovely to see so many parents, caregivers and whānau here. 
TEACHER ONLY DAYS – The school will be closed for learners on Friday 4th June & Friday 25th June.  Fun club will be open on these days.
WHOLE SCHOOL CROSS COUNTRY –  Will be held on Monday 14th June 9am – 12pm. We will require parent help to marshal the children, therefore if you can help on this day please contact Renee Heasley rheasley@torbay.school.nz
CROSS COUNTRY TRAINING – Please send a spare change of clothes to school with your child for cross country training. If your child has received a change of clothes from the health room, please wash and return these promptly. Thanks! 
PHOTOLIFE – Shoot key codes to view and purchase your photos online will come home with your child in due course.
SECOND HAND UNIFORM SHOP – We are always in need of good condition uniforms for the second hand shop, therefore, if you have some that you wish to donate, please drop them off at the office.  The second hand shop will be open on the following dates for Term 2 outside the office foyer: Thursday 1st July, Hours are 08:30-08:55 & 15:00-15:30. We have plenty jumpers here for sale, as the colder weather sets in.
PTA EVENT – SCHOOL DISCO  – Friday 28th May. HEROES and VILLIANS theme please see flyer below in the PTA section Tickets are on sale now via our online shop (Kindo) Juniors 6pm – 7pm Seniors 7.15pm – 8.30pm
GARDEN TO TABLE – Can you donate? Here is a wish list for our garden: very large pots, garden scissors, garden trowels, children's gloves, corks for the Olla pots, a Green house, child sized rain jackets & gumboots to fit 10 & 11 year old's. All can be second hand but needs to be in good condition.  If you can donate any of the above items please bring to the school office.
GUITAR LESSONS AT TORBAY SCHOOL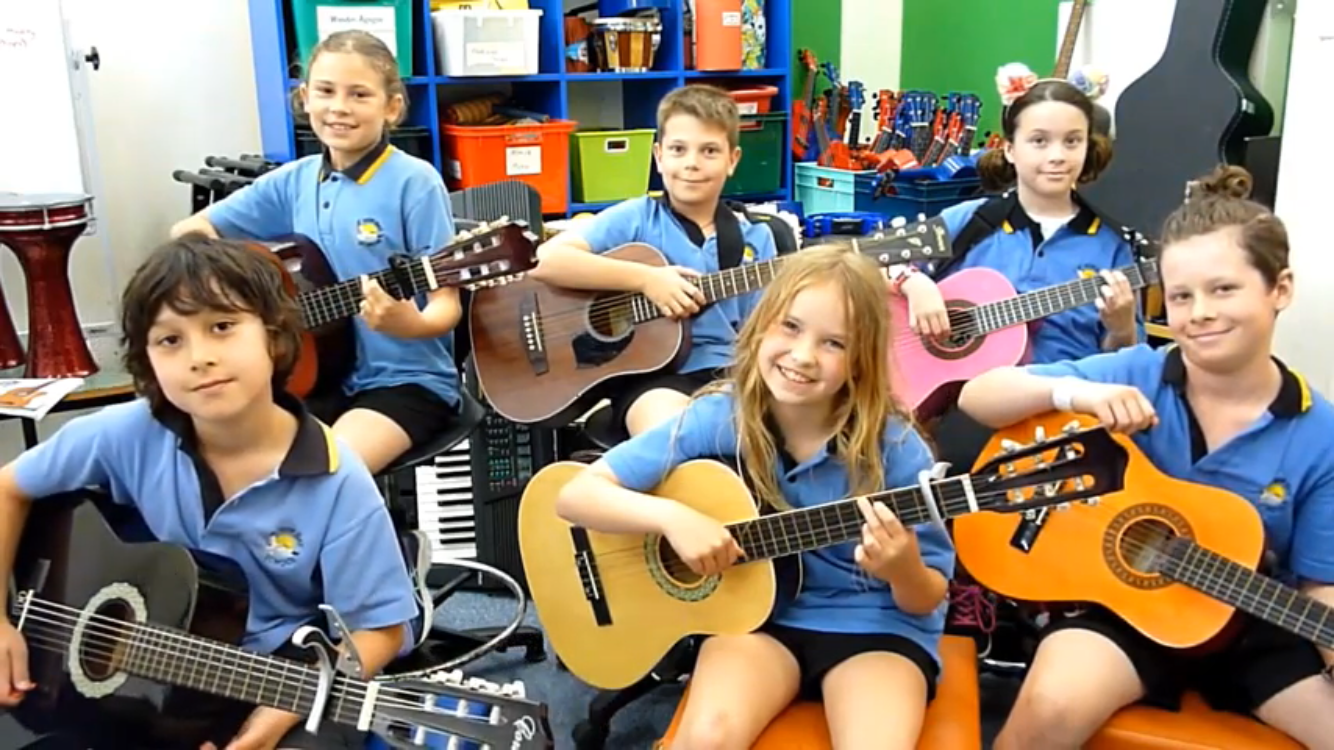 Hi, my name is Phil Moore and I have been teaching guitar at Torbay School since 2012. Students learn a range of traditional and contemporary styled songs and techniques during school hours on Tuesdays. The lessons are group classes and students play and sing together as a group and take turns to play to the group as individuals. It's a really fun format and is popular at the four schools I teach at on the North Shore. Trial lessons available.
GENERAL REMINDERS
HEALTH ROOM:  Please do not send any children to school who are unwell. 
If your child is sick please stay home and follow the guidelines for the illness and stay home for the recommended time frame set by the Ministry of Health.
VOMITING/DIARRHOEA: Any children who have had vomiting or diarrhoea must not return to school until 24 hours after the last episode.
SORE THROATS:  If your child has a sore throat, please keep them at home.  For more information click here 
SCHOOL NEWS & STUDENT VOICE
YEAR 4 CAMP – Whānau Motuihe went to Peter Snell Youth Village recently and the children (and adults) had an amazing time. We were very proud of the way the children represented our school and used their C.A.R.E values and Learner powers. A HUGE thank you to everyone who helped before, during and after camp. Without your support we would not be able to offer these unforgettable experiences. Check out some photos below: