IMPORTANT DATES AND EVENTS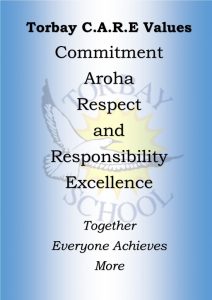 Torbay School Learning Powers – RIC

PRINCIPALS MESSAGE
Tena Koutou e te whānau
Colour Run
I am looking forward to our annual colour run on which is less than 10 sleeps away. This is always a terrific afternoon and opportunity to get together as a community, have some fun and raise some money for the school. If you have not yet registered for the event the directions on how to do that can be seen later in the newsletter. This will be the final stage of fundraising for our new gardens. I want to thank our PTA in advance for the wonderful job they do to support the school and provide us with these extra resources and facilities we would not otherwise be able to have.
Events
As the end of the year approaches there are several important dates to be aware of:
Colour Run Saturday 25th
Year 6 Market Day 1st
Performance Assembly. Thursday 7th December – Major Performing Arts Groups performing to parents. All parents invited.
Browns Bay Santa Parade 2nd
Celebration Assembly, Thursday 14th December – Parents of award winners invited.
End of year reports will be sent home on Monday 18th
Year 6 Graduation assembly, Tuesday 19th December – Parents of Year 6 Students invited.
Last day at school 20th School closes at 12.30pm.
This is a special time of year particularly for our year 6 students and their families as they move on to intermediate school. We look forward to seeing you at our various events and celebrate what has been a very successful year for the school and our children.
Gardens
With the completion of our building project and the successful transition of Whānau Kawau into there new classrooms we can now return our focus to completing our garden project. Thank you to all those that have contributed and attended our working bee. There is still a lot of work to be done to complete the project and we look forward to your continued involvement.
Garden to Table
Thank you to our parents who have volunteered for our year 6 Garden to Table programme in 2023. On Wednesday Whānau Rakino held a celebration feast inviting their parents into school to view our gardens and enjoy some of the food produced by the children. This hugely successful programme has become an important feature in year 6. Special thanks need to go to all the Rakino staff and in particular to Vicki Byard and Chanel Torbet for their specialist work in the kitchen and the garden. There special skills make Wednesday morning a very special time at Torbay School.
Thank you for your continued support of everything we do here at Torbay School. Please do not hesitate to contact me on any subject.
Nga mihi nui
Gary O'Brien
Principal
ACOMPLISHMENTS
CONGRATULATIONS to the following tamariki who received certificates from their class teachers: Ares, Barty, Maia & Esme Rm 1 & 2, Kaysen, Eddie, Aria & Arthur B Rm 3 & 4, Kyron, Maxim, Lucy, Lydia & Enid, Quinn, Bronson, Levi, Marley & Kevin Rm 7 & 8, Talon, Ludwig, Varleen & Charles Rm 9, Lillian, Emma, Cody & Madison Rm 11, Isobel C, Jayden, Louis & Claire Rm 13 & 14, Emily & Jack Rm 15, Wolf & Stevie Rm 16, Cameron, Zoe, Jacob & Celeste Rm 17 & 18, Taymon & Ethan Rm 19, Xander & Rebecca Rm 20, Brooke, Elektra, Charl & Bella Rm 21 & 22, Jonathan, Eva, Gwynnie & Luca M Rm 23 & 24, Liam, Ruby, Zoe, Roseleen, Megan & Ryan Rm 25 & 26, Martin & Jay, Rm 27, Anna & Erin Rm 28 Well done!!
KA PAI to the following students who have shared their fantastic learning with us this week: Brody M Rm2  Keep up the good work! 
RICC REWARDS, for displaying our C.A.R.E Values – Cameron Rm 18, Anna Rm 28, Martin Rm 26, Aria Rm 15, Arthur Y Rm 3, Amanda H Rm 2 Ka pai!
KA RAWE AWARDS,  For using Te Reo Māori at school – Evelyn Rm 9, Lily Rm 19, Tom Rm 17, Nicole Rm 8 Tino pai!
SCHOOL NOTICES 
CELEBRATION OF LEARNING AWARDS ASSEMBLY – THURSDAY 14TH DECEMBER Awards assembly will be held in the School Hall and more information will come home in due course. Due to capacity reasons only parents/caregivers of children receiving special awards will be invited to attend this event.
YEAR 6 GRADUATION EVENING, TUESDAY 19th DECEMBER – Year 6 Graduation will be held on Tuesday 19th December in the School Hall. Please note: Due to capacity reasons only Year 6 students and their parents are invited. If you have any queries please contact [email protected]
2024 ENROLMENTS – If your child, or someone you know has a child who lives in the Torbay School zone, and they are turning 5 next year, please urgently complete an online enrolment application available from our website.
HATS & SUNBLOCK- Hats are compulsory in Term 4 for students to play outside in the playground.  Please ensure all hats are named. New school hats are available from Janbells, Mairangi Bay and the school office.  As the weather heats up this summer, please remember to sunblock your children every morning. Thanks for your support of being Sun Safe.
OVERDUE LIBRARY BOOKS – We have a number of overdue library books.  If you have any school library books at home please send these in with your child as soon as possible. Thank you.
JOIN US AT THE BROWNS BAY SANTA PARADE – Saturday 2nd December meet at 4.30pm for a 5pm start.   Check out the flyer below for all the details. More information will come home in due course if you wish to join the parade! We hope to have as many Torbay School families walking in the parade with us. If you would like to help in any way, please email Chrysi Toerien at [email protected]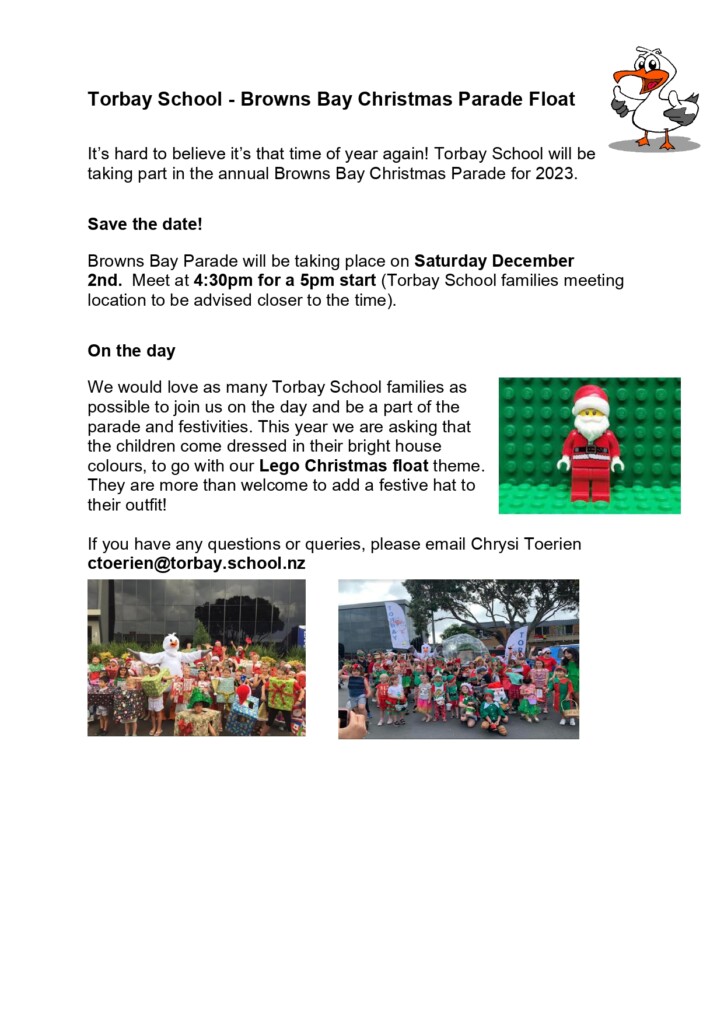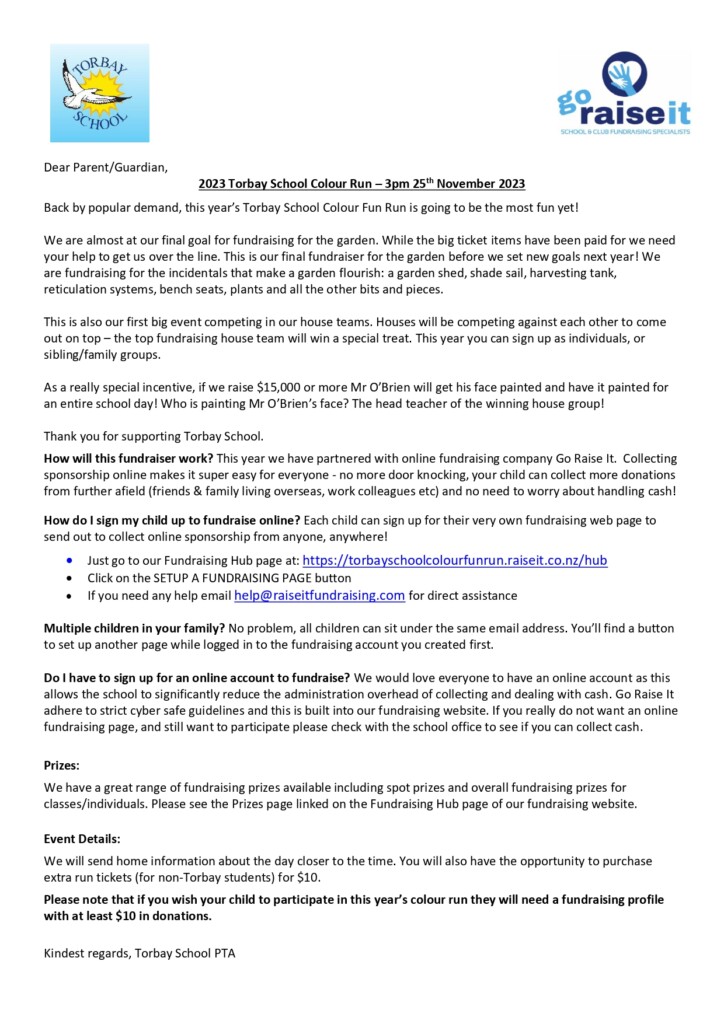 Print or Save this Post