IMPORTANT DATES AND EVENTS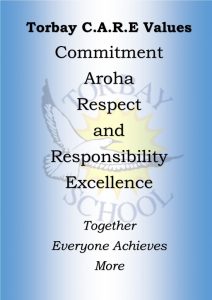 Torbay School Learning Powers – RIC

PRINCIPAL'S MESSAGE
Tēnā koutou e te whānau
Second Place at Mathex – Congratulations to our teams who competed in the Junior Mathex competition at Northcross Intermediate yesterday. We are very proud of all three teams that competed and very excited that one of our teams came second overall. This is an excellent achievement as there were over thirty teams competing in the event. Thank you to Jen Dawe, Linda Irwin and Susan Ye for preparing the teams and facilitating the outing.
Our Mathex teams: Corey Z, Jack H, Stella C, Eddie M, Lydia A, Tristan S, Quentin R, Zachary L, Bill H, Kaelin C, Enya Y, Finn M.  
Senior Cross Country – Cross Country enthusiasts would say the weather was ideal for our senior cross country on Monday. This is the first cross country event we have had in two years. Despite the odd storm blowing through the day went exceptionally well. It was great to see parents on-site cheering the children on. The children performed brilliantly well and there were many examples of resilience and striving for excellence. Thank you so much to Renee Heasley and Sam Coyle for heading up the organisation of this event and a whole team of staff who assisted with laying out the course and helping with marshalling, first aid and many other jobs on the day.
Congratulations to those that came in the top six in their division and are representing us at the interschool cross country event next week. Congratulations also to all the children who tried so hard and completed the course when running is not really "their thing." Well done to you all.
Matariki – Every class will celebrate Matariki over the next two – three weeks. This celebration is marked by a national holiday next Friday and many of our classes have been learning about Matariki and it's background and significance. We hope you will be able to take the opportunity to spend some time visiting your child's classroom and celebrating Matariki with us.
Family Holidays – With the relaxing of Covid travel restrictions we are finding that some families are taking extended overseas holidays to visit family during term time. It is our policy not to provide extra work for children while they are away on these trips. We feel that the experiences the children will have while travelling internationally provide an immense amount of learning and your children will benefit from these experiences. 
There is learning material available from a myriad of education sites on the internet and if you feel there is a need for your child to continue with academic work while away then we advise you to utilise these sites and our learning at home site available through our website. 
Teacher Only Day 20th June and Nathan Wallis – I would like to remind you of our Teacher Only Day on this coming Monday and thank you for making other arrangements for your children's care on that day.
It is also your last chance to book in for Nathan Wallis' presentation on Monday evening. I really recommend Nathan's presentation and also encourage you to share this opportunity with any other parents whether they be Torbay or not. Everybody is welcome to book a seat.
On June 20th at 7.30pm Nathan Wallis will be delivering a presentation to our wider community. Nathan is a celebrated neuroscientist who specialises in education. This evening has been organised by our PTA and was delayed from last year. I urge you to attend this event as Nathan is an engaging speaker and his presentation will help parents understand our play based learning (Wā Kitea) approach to learning in the junior school.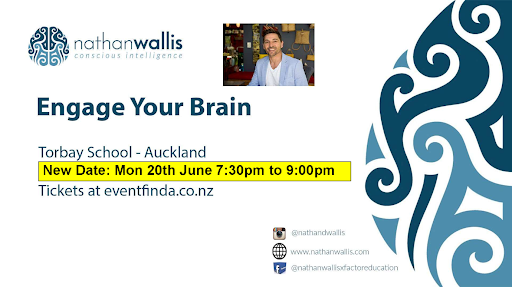 Book your tickets here for Nathan Wallis
Thank you for your support for everything we do here at Torbay School. Please do not hesitate to contact me if there is any aspect of school you would like to discuss, my email is [email protected]
Ngā mihi nui
Gary O'Brien
Principal
---
ACCOMPLISHMENTS 
KA PAI to the following students who have shared their fantastic learning with us this week: Aya, Myra Rm 9 Awesome work! 
CONGRATULATIONS to the following tamariki who received certificates from their class teachers: Peyton H & Aven, Luke, Tyler, Jesse, Charneli Rm 3, Bella, Mila, Ray, Leandri, Ludwig, Marly Rm 4, Kosta, Madison, Daniel, Shekinah, Ella, Calum Rm 5, Jamie, Theo G, Maia, Isaac, Hanna, Leo Rm 6, Elise, Ashton, Liam, Juliet, Lachlan, Victoria Rm 7, Allie, Eason G, Morgan, Joshua, Zoe, Mika Rm 8, Feifei, Viyan, Maddy, Caue, Isabella, Mason, Aya Rm 9, Alyza, William, Charl, Lucca, Maddie, Reuben Rm 10, Sen, Mia, Jessie, Harrison, Yiyi, Aruhi Rm 11, Oliver, Lily, Rory, Adam, Cian, Sophie Rm 12, Jackson, Dylan, Imogen, Nora, Isla, Isaac Rm 13, Rosa, Maia, Maya T, Everett, Bailey, Ben Rm 14, Miah, Elvis, Joel, Sophia, Connor A, Miah Rm 15, Freya, Skye, Emily, Dylan, Rm 16, Luca J, Benji, Tyler P,  Emilia, Cindy, Jonathan Rm 17, Brooke, Zeke, Sienna, Alex M Rm 18, Mason, Pyper, Erin, Lexie, Ethan, Jay Rm 19, Sophia, Henry, Brody, Isabelle Rm 20, Joel, Owen, Olivia, Beau, Campbell, Derek Rm 21, Riley, Sophie, Lexi, Larissa, Jaxon, Mahera  Rm 22, Louis, Blair, Anthony, Johan, Hannah, Nicky Rm 23, Cody, Xavier, Michelle, Memphis, Matteo, Toby Rm 24, Emma, Salesi, Mila, Bianca, Caleb, Cooper Rm 25, Aamani, Regardt, Evie V, Luke, Ethan, Tilly Rm 26, Alesha, Sophia, Joel, Amelie, Max M, Izzy S Rm 27 Well done!!
SENIOR CROSS COUNTRY PLACINGS – CONGRATULATIONS and KA PAI! 
| | | | |
| --- | --- | --- | --- |
| Age  | 1st  | 2nd  | 3rd  |
| 8 year old girls | Isobel S Rm 20 | Zoe P Rm 21 | Greta B Rm 21 |
| 8 year old boys | Flynn B- P Rm 19 | Harley S Rm 19 | Theo P Rm 21 |
| 9 year old girls | Esmee G Rm 18 | India R Rm 17 | Mila B Rm 24 |
| 9 year old boys | Ari A Rm 23 | Benji B Rm 17 | Levi C Rm 24 |
| 10 old girls | Amelie I Rm 27 | Zayra S Rm 26 | Sienna S Rm 25 |
| 10 old boys | Barry E Rm 27 | Kaelin C Rm 25 | Jack H Rm 26 |
SCHOOL NOTICES
MEETINGS –  The next B.O.T Meeting will be held on Wednesday 22nd June @ 7pm. The next New Parent Meeting will be held on Monday 29th August @ 9.15am in the staffroom.
TEACHER ONLY DAY MONDAY 20th JUNE – School will be closed for all learners on this day. Fun Club will be open, please contact Fun Club direct to book in. 
NATHAN WALLIS MONDAY 20th JUNE 7.30pm – 9pm.  Reminder: this event will be held in the School Hall. Tickets are on sale via Eventfinda click here to purchase tickets.
MATARIKI 2022 FRIDAY 24th JUNE – School will be closed on Friday 24th June due to the first Matariki public holiday.  
END OF TERM MUFTI DAY AND PTA SAUSAGE SIZZLE – On Friday 8th July we will be holding a gold coin donation end of term mufti day. More information about the day will come home on a flyer.  There will also be a PTA sausage sizzle – orders are now open on Kindo. There will be vegetarian sausages available, along with gluten free bread.  Please note: GF orders and the vege sausages will be cooked separately to cater for allergies/cross contamination.
SCHOLASTIC LUCKY BOOK ORDERS – ISSUE 3 – Lucky Book Club orders have gone home with your child.   ISSUE 4 –   Order forms have gone home, closing date for orders is Friday 24th June @ 3pm. Every order provides valuable resources for our library and other book resources for our school.
SCHOLASTIC CASH SALES – A reminder that Scholastic have changed the way they do over the counter book orders.  We no longer take cash sales/orders at the office. If you wish to order a book you will need to go through the Lucky Book Club LOOP. It is easy to do, just create an account, select our school (use the first 3 letters 'TOR' and select Torbay School along with your Child's teacher/room number). Here is a step by step guide on how to create an account.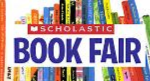 SCHOLASTIC BOOK FAIR – We have our annual Scholastic Book fair coming on Thursday 28th July (Term 3) and it will run for one week. This will be held in the School foyer.  More information to come about the opening hours in due course. 
FUN CLUB JULY SCHOOL HOLIDAY PROGRAMME – Fun Club will be open for the first week 11th – 15th. 7.30am-5.30pm $44. per child/ per day. Theme Monster Party: Monster Cookies, Monster Disco, Monster Tube Crazy Craft. Booking forms on our  website.
ENROLMENTS 2022/23 – If your child (or someone you know has a child who lives in the Torbay School zone) is turning 5 within the next 12 months, please urgently complete an enrolment application (available from our website or at the school office).
SECOND HAND UNIFORM SHOP – The shop will be open to purchase second hand uniforms on Wednesday 22nd June from 8:30am-8:55am and 3pm –  3.30pm just inside the hall by the office. If you have any good condition Torbay School or sport uniforms you wish to donate, please bring them to the school office.
GENERAL REMINDERS
DROP OFF ZONE AND PARKING ON YELLOW LINES:  We have had a number of complaints about parking legally on yellow lines as well as blocking our neighbour's driveways. We understand that parking can be difficult around 3pm therefore please ensure you make enough time to park or make alternative arrangements for older students to walk and meet you in a different pick up location.  The Drop off Zone is a two minute stop only which means NO PARKING. Please DO NOT park and take your child into school.  If your child requires assistance to get to the school gate, then please park on the road. Please be courteous to other drivers when using the drop off zone and please ensure you follow the road rules and adhere to the left hand turn only.
LOST PROPERTY – There is a large amount of lost property again. All named items have recently been returned to their classes, however there is still a huge amount of unnamed items in the lost property, which is located in the hall. Please ensure you take the time to name ALL your items to help us return them to their owners. Any unnamed/unclaimed school uniforms will be donated to the second hand uniform shop and any non uniform items will be thrown out or donated to the clothing bin at the end of the term.
HEALTH ROOM:  Please do not send any children to school who are unwell. 
If your child is sick please stay home and follow the guidelines for the illness and stay home for the recommended time frame set by the Ministry of Health.
HEALTH ROOM CLOTHES – If your child has recently come home with a set of health room clothes/uniform please kindly wash and return these to the office asap.  If you have any size 4 – 8 black bottoms girls or boys that you wish to donate to our Health Room please bring them to the office.
EDGE PARENT PORTAL – Parents and Caregivers can check information, contact details, phone numbers and download school reports through the parent portal via Edge.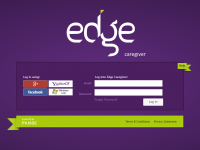 If any of the information is incorrect please contact the School Office so we can update any changes.
SCHOOL BOARD PARENT ELECTION 2022
SchooI Board Parent Election 2022
Nomination round
Our school will be undertaking a parent election for 5 School Board vacancies. This process will start with the issuing of nomination papers to our caregiver community by Friday 15th July 2022.
We have employed CES to undertake the election process on our behalf. This year with legislative change, our nomination form and full instruction on how to place your nomination into our own School's Election website will be emailed to you if we have your email address in our database or you will receive it by post if we don't have your email in our database.
Nomination papers will also be available at the school office. The school will send those on to CES for processing upon receipt from candidates.
Nominations close on Wednesday 3rd August at 12 noon. Election day is Wednesday 7th September.
We look forward to your participation in this process.
Wayne Jamieson
Returning Officer
CES
89 Nazareth Avenue | Middleton | Christchurch | PO Box 414 | Christchurch 8140
P (03) 338 4444 | Cell 021 399 744  Web www.cessl.org.nz
STUDENT VOICE/NEWS 
SENIOR CROSS COUNTRY PHOTOS