Tēnā Koutou Katoa
I am very happy to welcome Sam Coyle to our staff. Sam is a newly qualified teacher and worked at Torbay School for a short time at the end of last year. Sam will fill the role of Physical Education Specialist and Sports Coordinator. He has already assisted in getting Basketball and Waterpolo underway this year and we look forward to impact he as on Sport at Torbay.
Sam brings a broad range of experience to Torbay School and has already proven himself to be a perceptive capable young teacher. I wish him well for his future career and know that he will have your support in delivering quality sports and PE opportunities to our children.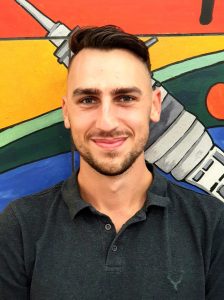 Ngā mihi nui
Gary O'Brien
Principal
Torbay School
---
Kia ora,
My name is Sam Coyle and I am the new Physical Education Teacher and Sports Coordinator here at Torbay School. I am a recent graduate from AUT and I couldn't be more excited to start my teaching journey here. I am passionate about building strong relationships with my students in order to provide the best learning experiences possible and helping everyone realise their full potential. I have a strong passion for sports, in particular football, futsal, and basketball. I have even coached children, men, and women in futsal at a national level. I look forward to working with all students in PE and giving them the best sporting opportunities this year!
Basketball and Splash Polo are underway and off to a great start this term despite a few hiccups from COVID. Unfortunately basketball games are currently on hold but will hopefully be back next week. In the meantime it has been great to see so many teams keeping up their training on the courts afterschool. It has also been great seeing so many children in the pool this term playing splash polo.
REMINDER TORBAY SCHOOL SPORTS HOODIE ORDER – If your child plays sports for the school and you would like to purchase one they are now available to buy via our online shop under the sports tab. Orders will be closing on Friday 1st April @ 3pm. This is the first order for 2022. These hoodies can be worn at any Torbay School sports event (Rippa, Netball Tournaments etc) but not as a replacement for our school uniform.
NETBALL REGISTRATION NOW OPEN – If your child is interested in playing netball, registrations for term 2 are now open. More information can be found below.
Available for year 1 to 6 
Venue: Pinehurst School, 75 Bush Road, Albany, 0632 
League Dates: 14 May to 2 July and 30 July to 10 September 
Game Times: 8:45am to mid afternoon 
Team Size: 7 a side (10 maximum) 
Equipment: All equipment is supplied – players will wear their Torbay sports uniform 
Registration: $78 https://forms.gle/Mb8yZuqg2utXmrqg9 
*Fees include season cost, umpire fees, and equipment 
Closes March 25th 3pm 
Please ensure that you complete our ONLINE registration form and payment which you can find on the Torbay School website – KINDO – payment and registration in one spot. 
For more information please visit: https://kidzplaynetball.co.nz/information/winter-league/  
We look forward to another fun and exciting season of Netball.
Splash Polo and Basketball will be returning in term 2 and we welcome hockey for the first time this year – more news on registrations to come soon.
If you have any questions please email Sam Coyle – [email protected]
Ngā mihi,
Sam Coyle
Physical Education Teacher and Sports Coordinator

Print or Save this Post