IMPORTANT DATES AND EVENTS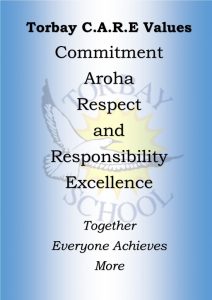 Torbay School Learning Powers – RIC

DEAR PARENTS
Tēnā koutou katoa
Thank you for your support as we implemented our Level 3 Lockdown. Transitioning from Level 1 to Level 3 in such a short period of time was challenging and I want to thank all of our staff for the job they did in making that transition. 
Recalibrating yourself to suddenly be teaching online the next day is a difficult task and our teachers did a wonderful job at ensuring that our children's education continued despite the Level 3 Lockdown. Special thanks also to our staff who came into work during the three days to keep our school operating and to run our "Bubble School". All of our staff pulled together over the last week and have much to be proud of as they moved into and out of distance learning mode all in the same week.
It was great to see the children back this morning and thank you to you as parents and caregivers for operating within the drop off and pick up protocols we have put in place.
SPORT
The work that Monika Benkovic puts in at this time of the year to set up our growing number of sports teams is just incredible and I want to acknowledge this. Her work of gathering registrations and putting children into teams seems endless and I thank those parents who have supported her during this challenging time.
We are however in need of your help! We are in desperate need of coaches for our basketball teams, particularly our year 5 and 6 teams. We have 5 of our 7 year five and six teams currently without a coach. It is very difficult for Monica to run what is a superb sports programme if we do not have volunteers to support the children. You do not need to be a basketball coach, you just need to be willing to support and look after the children.
Due to the restrictions in Level 2, our Sports programmes will get underway at the beginning of March. It will be wonderful to see these sports going ahead then. 
Please contact Monika by email if you can help, this is vital! [email protected]
Meet the Teacher Picnic and Whānau Feedback.
Because of the lockdown and the uncertainty going into next week we have cancelled these two events but will reschedule them once we have a little more certainty around our situation going forward.
The children have returned to school in a buoyant mood, we will continue to plan optimistically for the future and do everything we can to support our children's learning.
As always please feel free to contact me on any topic.
My email address [email protected].
Ngā mihi nui
Gary O'Brien
Principal
---
SCHOOL NOTICES
KA PAI to the following students who have shared their fantastic learning with us: Hunter Rm 7, Lucas, Ethan, Delilah & Lily Rm 8 Awesome work!
CONGRATULATIONS to the following tamariki who received certificates from their class teachers: Sienna C & Mila Rm 2, Evie & Elise Rm 3, Taylor & Fletcher Rm 4, Brooke & Odelia Rm 5, Tristan D & Jasper Rm 6, Larissa & Talen Rm 7, Jayin & Madison Rm 8, Campbell & Greta Rm 9, Pyper & Mason Rm 10, Kiara & Madeline Rm 11, Alfie & Millie Rm 13, Brodie & Henna Rm 14, Nicole & Ludwig Rm 15, Jasper & Ida Rm 16, Jack & Louis Rm 24 Well done everyone! 
MEETINGS –  The next PTA meeting will be on Monday 22nd February @ 7.30pm in the staffroom. The next New Parent Meeting will be held on Monday 8th March @ 9.30am in the staffroom. Parent Helper Training will be on Monday 15th March at 9am in the staffroom. 
MEET THE TEACHER/SCHOOL PICNIC, SPORTS INFORMATION EVENING & WHĀNAU FEEDBACK EVENINGS are postponed until a later date.
SPORTS POSTPONEMENTS –  Waterpolo, Touch, Basketball, Miniball and Little League are all postponed 1 week until 1st March and Waterpolo starts on 28th Feb.
Y1-3 JUNKY MONKEY EVENT – WEDNESDAY 24th FEBRUARY – Thank you to those who have already made the $6 donation.  We would appreciate further contributions towards this event if you haven't done so already.
SECOND HAND UNIFORM SHOP – The shop will be open to purchase second hand uniforms on the following dates: Thurs 25th Feb and Thurs 8th April from 8:30am-8:55am and 3pm—3.30pm just inside the hall by the office.  If you have any good condition uniforms you wish to donate, please bring them to the school office once we are back in Level 1.
DENTAL VAN VISITING – Monday 22nd – Friday 26th February 2021. Any children that are due to be seen will be seen during this week.
VISION AND HEARING will be visiting on Thursday 25th February 2021. Any children that are due to be seen will be seen on this day.
SCHOLASTIC BOOK ORDERS – ISSUE 1 –
Lucky Book Club Order forms have gone home with your child/ren.  For any parents wanting to order books the closing date for orders is
Thursday 25th February at 3pm. 
Thank you for your support, with every order our school benefits. 
YUMMY STICKERS – Don't forget to keep collecting your yummy stickers. Collecting Yummy Stickers provides sports equipment for the school.  If you require a new sheet you can collect one from the school office.
GUITAR LESSONS AT TORBAY SCHOOL – Hi, my name is Phil Moore and I have been teaching guitar at Torbay School since 2012. Students learn a range of traditional and contemporary styled songs and techniques during school hours on Tuesdays. The lessons are group classes and students play and sing together as a group and take turns to play to the group as individuals. It's a really fun format and is popular at the four schools I teach at on the North Shore.  To view some of my students in action, click on the following link…
https://youtube.com/playlist?list=PLOpLvAhe58NIYaXS5FBZrQMV5xbDwUdrD  To find out more about the lessons contact phil.moore@musiqhub.co.nz or 021761441
GENERAL REMINDERS 
SWIMMING – As swimming is a compulsory part of the New Zealand Curriculum, all learners are expected to swim on their classroom swim days. If you are unsure which day your child(ren) swim, please ask their teacher.
LUNCHROOM – The Lunchroom is now open for morning tea and lunch orders. It will be open Wednesday, Thursday and Friday each week.
HATS & SUNBLOCK- Hats are now compulsory for students to play outside in the playground.  Please ensure all hats are named. Lost hats are kept in the office, so please check there if you are missing one.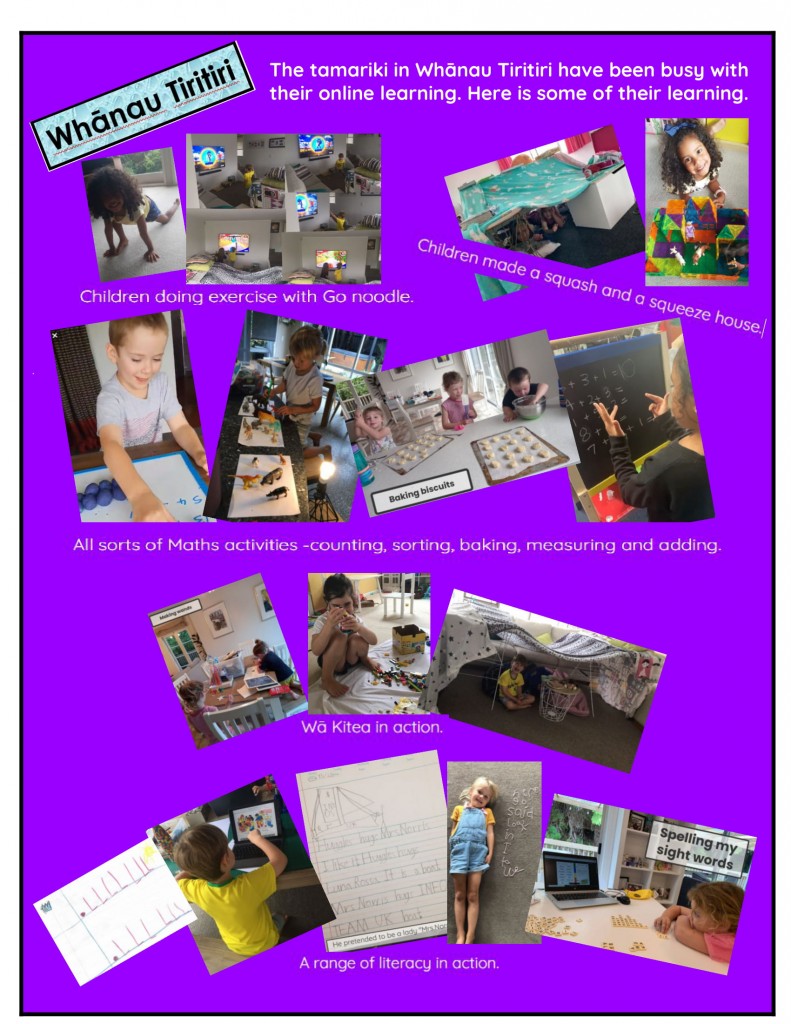 WHĀNAU RANGITOTO Year 2's
WHĀNAU WAIHEKE Year 5 Camp 
They say that history doesn't repeat or lightning doesn't strike twice, but there has been a sense of dejavu this week amongst the Waiheke teachers.  
Last year we came home from camp and on Monday we were told we would be going into lockdown. Lo and behold, this has happened again. There certainly is a sense of gratitude amongst the team that we were able to go to camp with all of our awesome students and some of their whānau supporting us for transport and overnight helpers.  I want to express a massive thanks to all of those who came and helped one way or another as well as all of the other parents entrusting us to look after your children so early on in term. 
We had an amazing time, the students had a blast showing all of their Torbay School CARE values and rising to, and overcoming challenges. What a fantastic bunch of kids! I know as their team leader I have come back with a heart bursting full of pride that these are our children for the year. 
To our students – your teachers miss you and we can't wait to have a proper debrief in the classroom soon. 
Kia kaha, 
Mrs Heasley 
MY MIHI CHALLENGE
We have a reo challenge for Torbay School students, whānau and staff. Watch the video to learn about the My Mihi Challenge click here to watch . You can say the country you come from in English or te reo Māori. You can look up the country you and your ancestors come from at https://maoridictionary.co.nz/  If you are feeling confident and brave you can record your Mihi on this flip grid https://flipgrid.com/819301af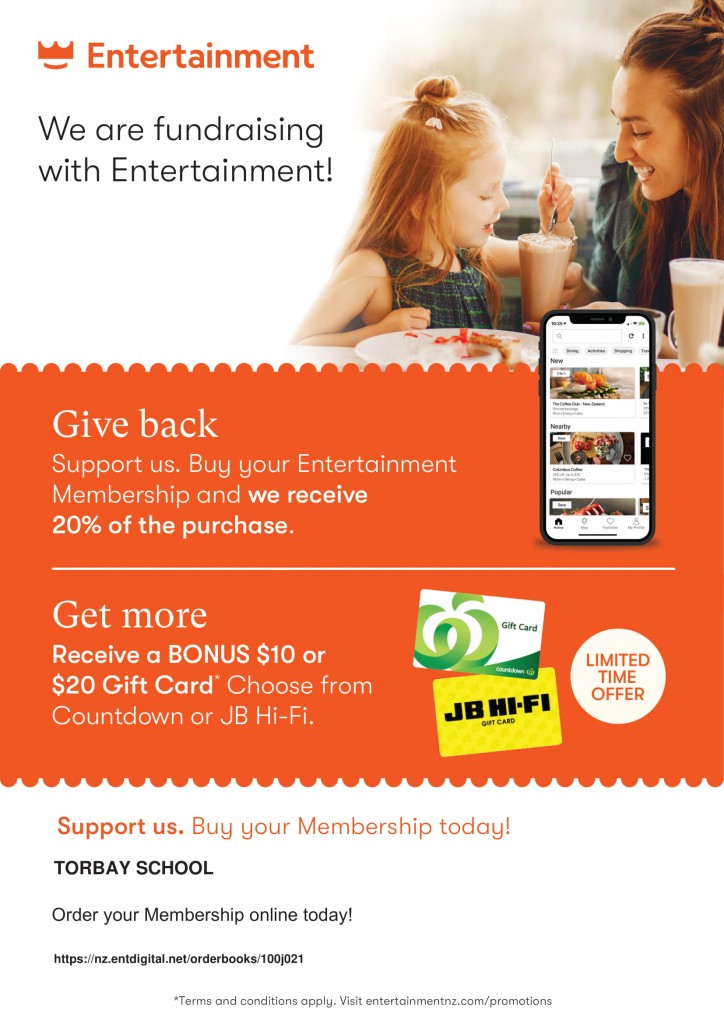 Stay up to date with all our fundraising events by following our Facebook page: "Friends Of Torbay School"
COMMUNITY NOTICES
What: 2021 Kiwibots VEX Robotic National Championships 
When: 9am – 5pm Saturday 20 February and 9am – 4:30pm Sunday 21 February Where: Vodafone Events Centre – Sir Woolf Fisher Arena, 770 Gt South Road, Manukau Cost: Free 
Register: http://bit.ly/VRC_Nats_21 
For more information, reach out to [email protected] or check out www.kiwibots.co.nz
---

Print or Save this Post