Walking to School 
Next week we are in Level 2.  This can mean congestion at our drop of zone and school gates.  The best way to avoid this is to join the WALKING SCHOOL BUS.  It's healthy, and reduces the amount of cars on the road, making our environment safer and cleaner.   
Positives for our Tamariki 
Children enjoy meeting up and talking to their friends.

They gain a sense of independence.

Friendships develop across different age groups.

They learn about road safety from a pedestrian's perspective.

They develop a positive attitude towards walking.

Improve their overall health and decrease obesity levels.

Daily exercise can aid academic achievements, as it helps improve concentration, memory and learning.

Kids just love the fun, organised activities and resources.
Positives for our Whānau
Enjoy extra free time when you do not have to do the morning drop off every day.

Getting to know the families in your neighbourhood.

Save on fuel costs.

Learn new skills from the optional workshops provided. All workshops have certificates suitable for a CV.

Have the satisfaction of knowing that you are helping the school, your child and other children.

Take advantage of the routine exercise walking to school provides.

Help make your school safer by reducing the congestion around the school gate.
Auckland Transport information on the Walking School Bus  – Click here
Torbay School Walking School Bus
A walking school bus is just like a school bus except children walk to and from school under the supervision of adult volunteers (often parents), who act as the walking school bus driver.
Children are collected from stops along a planned route and dropped off at the school gate. 
Don't live by a route? You could always drive to the starting point of one and the kids could 'Park and Ride'.
The kids earn rewards as they get their ticket clipped each time they walk, as well as having extra events just for them such as 'Milo & Mornings' and a 'Pizza & Pool Party'.
All we ask is that you give up one morning to drive, or help drive the bus to school. We understand that this may be tricky so we will try to work with you to find a way to make it work. This may be that you only go part way to school and another driver takes over, or perhaps your route has someone that can do multiple days so they can cover yours (for a coffee perhaps). 
We want to get as many students as we can walking to school, it's not only good for them, but as so means less traffic around our school gates making it safer.
For more information email [email protected]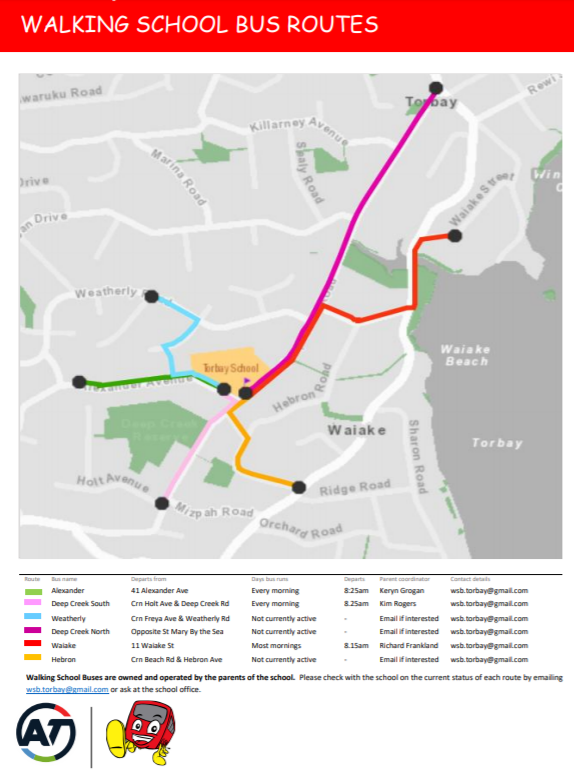 Click here to view up to date information from Auckland Transport about catching public transport during Covid -19 Alert levels.

Print or Save this Post