IMPORTANT DATES AND EVENTS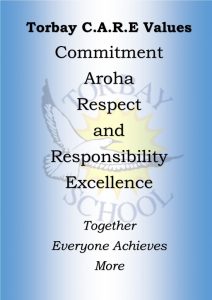 Torbay School Learning Powers – RIC

DEAR PARENTS
Tēnā koutou
It is with a sense of loss that I share the news of Amy Mawdsley will be leaving Torbay School at the end of week six next term. Amy and her family are moving to Nelson where her husband has a new career opportunity.
Amy joined our school in 2017 in the Junior department and has been a tremendous asset in that role. She is a caring teacher full of enthusiasm and energy and has contributed a great deal to Torbay School in her time here. She will be missed by us all.
I know you will all join me in wishing Amy, Alasdair, Caleb and Jacob all the very best for their exciting adventure.
A big shout out to our year 3 Kawau team. What a fabulous two days of EOTC the children had last week. Thank you to all those parents who helped out and stayed for Friday night. All sleepover reports have confirmed that this was a fun – filled two days that provided the children with another fabulously positive experience.
Thank you to our Kawau teachers who go well beyond their job descriptions to make this event possible and to all the other staff who supported and helped make it a success.
As I write this letter we are in the middle of Book Week.  There are all manner of activities going on around the school, creating a rich, exciting learning environment for our children. This is just another example of the type of events that have made this a such busy, exciting term filled full of learning opportunities, all planned for and provided by our wonderful teaching staff. I thank both them and our support staff for all their hard work. Have a well-deserved break over the holidays.
I also thank you for your help this term. Parent assistance is absolutely essential for camps, water wise and the many other events we hold and we are very lucky to have such a wonderful group of parents and caregivers.
Please have a safe and enjoyable holiday period and I look forward to seeing you all in term 2.
Ngā mihi nui
Gary O'Brien
Principal
ACCOMPLISHMENTS 
KAI PAI to the following students who have shared their fantastic learning with us this week: Nicholas S Rm 6, Billie F &  Finn M Rm 10, Sophie R Rm 19, Warren S Rm 24. Awesome work!
CONGRATULATIONS to the following tamariki who received certificates from their class teachers: Brooklyn M & Chloe M Rm 1, Galina E & Kobe C Rm 2, Harry, Renee, Erin & Brodie Rm 3, Owen, Andrew, Si-En & Koji Rm 4, Deon, Teagan, Jed, & Georgia C Rm 5, Reuben  & Lola Rm 6, Aamani & Eli Rm 7, Jacques & Lydia Rm 8, Mia B & Yana Rm 9, Michaela B & Harry W Rm 11, Olivia P & Leo M Rm 13, Carol Z & Jake P Rm 14, Zoe P & Campbell H Rm 15, Sophia W & Sophia L Rm 16, Max B, Tamika B & Kenzie B Rm 17, Hanson Z, Jarred W, Paige S & Brooklyn D Rm 18, Oliver B & Ari A Rm 21, Makaia & Jack Rm 22, Alex M & Michaela D Rm 23, Georgia, Adam, Ben & Megan Rm 24, Eres J & Remy S Rm 25.  Well done everyone! 
CONGRATULATIONS INTERSCHOOL SWIMMING TEAM – Congratulations to all of the Year 5/6 students who swam in the Interschool Swimming Competition at the Owen Glenn Aquatic Centre on Tuesday. Torbay did an amazing job and came 2nd overall.  A massive thanks to all of the parents who came to help and supported. Well done team!
SCHOOL NOTICES
B.O.T ELECTIONS NOTICE – Please see below 
Parent Election Notice
Torbay School Board of Trustees' Election
Nominations are invited for the election of 3 parent representatives to the board of trustees.  A nomination form and a notice calling for nominations will be posted to all eligible voters.  You can nominate another person to stand as a candidate, or you can nominate yourself. Both parts of the form must be signed.
Additional nomination forms can be obtained from the school office.  Nominations close at noon on Friday 24th May 2019 and may be accompanied by a signed candidate statement and photograph.  The voting roll is open for inspection at the school and can be viewed during normal school hours.  There will also be a list of candidates' names, as they come to hand, for inspection at the school.
Voting closes at noon on Friday 7th June 2019.
Signed Rachel Mayne
Returning Officer
ANZAC DAY CIVIC SERVICE – The Civic Service on Anzac day will be held at the Cenotaph In Browns Bay on Thursday 25th April.  PLEASE NOTE due to Health and Safety reasons The RSA have advised there will be NO PARADE, however, students are invited to come along to the Civic Service in their school uniforms.  For more up-to-date information please visit https://ourauckland.aucklandcouncil.govt.nz/articles/events/2019/04/anzac-day-2019/
TERM 2 ASSEMBLIES – ANZAC DAY Assembly will be on FRIDAY 10th May (note date change). Going forward whole school assemblies will be on a Friday.
PHOTOLIFE PORTRAITS/CLASS PHOTOS/SIBLING PHOTOS – FRIDAY 3rd MAY 2019 PhotoLife flyers have been handed out to students with information about the online ordering system. Every child will be photographed individually and in their class group. When photos are ready for printing, students will bring home their own unique shoot key. Simply follow the steps to view and purchase your photos.
Sibling photo request forms can be collected from the office. Please complete ONE form for EACH family and return to school before photo day.
SCHOOL ABSENCES –  Please remember to contact the school office if your child is going to be absent from school.
You can do this by one of the following:
 Phone: 473 8603 Ext 1
 Email: [email protected]
 Skoolbag App:  Download here 
 Website: Report an Absence form.  Click here
PLEASE NOTE: Text option is no longer available, please use one of the other methods above.
LAST WHEELS DAY for all Y1-4 learners on Friday unless Waterwise is cancelled.  
SCHOOL POOL KEYS – FINAL REMINDER that all pool keys need to be returned to the school office by the end of this term. Please note: the school pool will be closed for public use from Friday 12th April at 3pm and all keys must be returned by this date to receive the bond refund.
SPORTS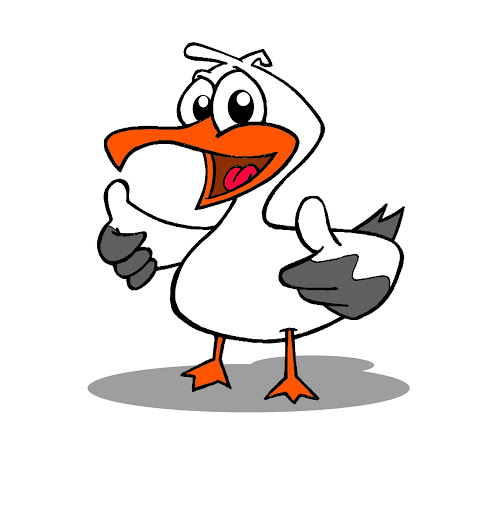 Reminder to register for Interschool Rippa Rugby Tournament (Year 3-4 and 5-6)  click here to register.
We are also in need of 2 more players for Flippaball to make a complete team, these players can be from years 3 – 6.  If your child is interested in playing click here for more info OR click here to register now.
PLAYER OF THE DAY 
Basketball – Torbay Breakers: Naava D (5 Apr)
Wow what a treat!  On Tuesday 9th April we were lucky enough to have Rina Botha visit us and share not only her book but the writing and illustrating process. Rina is also a parent who has children at our school. If you would like to add this book to your family's library. Here is the website address https://www.rinabotha.com/
Thank you Rina for sharing your talent and love of reading, art and books with our children.
Kawau Team
KAWAU TEAM EOTC AND SLEEPOVER – Thank you so very much for all the support we got last week for our EOTC and sleepover.  We had a great couple of days and the sleepover was surprisingly peaceful!  Here are a few photos!
PTA

Print or Save this Post