IMPORTANT DATES AND EVENTS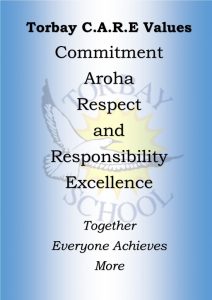 Torbay School Learning Powers – RIC

PRINCIPAL'S MESSAGE
Tēnā koutou
I have been wondering what to write in this week's newsletter. It is the end of a momentous year, a year in which we have faced so many challenges and  learnt so much. I want to celebrate the work our staff have done this year and the best way I can think of is to print a portion of my speech from yesterdays celebration assembly.
In the middle of January of this year Mrs Hills, Mrs Harwood and I sat down to finalise our planning for the year ahead.
There was one line on our agenda that said International Students – Coronavirus. We decided to send a letter to our prospective International students asking them to self-isolate before attending our school in 2020.
Little did we know that that line item in our agenda would come to define our school year and 2020.
From the moment on the 23rd of March when the Prime Minister announced first lockdown we faced many challenges that we had never contemplated, no forward planning or Health and safety plans could possibly have prepared us for what lay ahead.
This is a celebration assembly for our children!  however, I also want to celebrate, like never before, the work our staff has done this year. From day one when the lock down was announced our entire staff adopted a can do attitude, put the children at the centre of their being and delivered what I proudly consider one of the best online learning responses in the country.
There are many highlights we can reflect back on, from the staff meeting that our tech gurus Jen Dawe and Katie Hills produced for the day after the announcement. That meeting that gave our staff direction and ideas for what lay ahead was amazing, inspirational and prepared overnight.  Through to our chart-topping staff music videos and the moving online ANZAC ceremony that so many of our children and parents contributed to! Right through to the work that has gone into making this term, our only full term for the year, an action packed, fun filled, exhausting experience.
I want to emphasise that all of these things happened through the work of our whole staff, it is too easy to think of just teachers when we talk about a school's staff. I can assure you that every member of our staff whether they be Administrators, Caretaker, Support Staff or Teachers has contributed a great deal to what has become a year we will never forget!
I believe our staff have responded magnificently in 2020
There are other groups of people I would like to thank:
I would also like to take this opportunity to celebrate our PTA. Melissa Clark took over our PTA at the beginning of this year with plans galore, energy and enthusiasm only to be cut of at the pass time and again. I want to thank her and her team for not giving up and managing to produce several events this team not the least being the wonderful colour run 2 or 3 weeks back.
I would like to thank Rachel Mckenlay. Rachel has been a member of our board for 9 years.  As chair of our board she has done an outstanding job over the last 6 years. She has been instrumental in the planning of our new building and has been enormously supportive of the school advocating for the children at every turn always putting them first. She has also provided a wonderful bouncing board for me as Principal. She has led over the last three years, while I have been Principal, a very strong board who are forward thinking and very supportive. Our School is very lucky to have a board of such a high calibre.
What have we learnt:
While this year has been challenging there has been so much to learn. The most significant learning for me has been the endorsement of how important a values and skills based education system is. I believe we come out of 2020 much kinder and thoughtful that we value people more and that we are learning to understand empathy. This for me has endorsed our focus on our Torbay CARE values and our Learner Powers.
Over the last three years Torbay School has set out to broaden our approach to the curriculum, introducing a more integrated approach, while also focusing on our Care Values and our Learner Powers. Our programme is now focused on three areas Skills, Values and Knowledge. We hope to continue to build on this philosophy providing our children with the tools to truly fly high and succeed.
Throughout this year our children have been outstanding. They have surprised and delighted us during online school. They have been resilient and have returned to school after each lockdown with smiles on their faces and caring attitudes ready to learn. They have worked hard and have played hard.
So our year is about to come to an end and since our assembly yesterday the Board elections have been completed: Joel Gibbs has been re elected to the board and Andrew Foskett has been elected as a new Board member. A warm welcome to Andrew and I look forward to working with him over the years to come. This result means that Rachel Mckenlay steps down after 9 years as a board member and 6 as Board Chair.
Only a Principal really understands how much time and effort goes into this role and Rachel has certainly batted well above the average for the time and effort she has put into Torbay School over the period I have been Principal. I am sure that this was also the case prior to 2018. Not only the time spent but the quality of the work she has done has been outstanding. Rachel has always put people first when guiding the board and this has manifested itself in the kind, caring, community based school that we have at Torbay.
I thank Rachel on behalf of the whole community for all she has done.
Finally I thank you, our community of parents and caregivers for the support and aroha that you have shown over the last 12 months. It is a privilege to be the Principal of Torbay School.
Have a safe holiday and a very merry Christmas.
Ngā mihi nui
Gary O'Brien
Principal
SCHOOL NOTICES
LAST DAY OF TERM – Wednesday 16th December.  School will be finishing at 12.30pm. Fun Club will be open from 12.30pm. Merry Christmas and Happy Holidays!
FUN CLUB SCHOOL HOLIDAY PROGRAMME – After School Fun Club at Torbay School Holiday programme dates:
Dec 16th 12.30 – 5.30pm Half Day
Dec 17th, 18th, 21st, 22nd  Full Day 7.30 – 5.30pm
Theme Christmas crafts, games & swimming.
Jan:  Re-open 18th – daily until school starts 7.30 – 5.30pm.
Theme:  America's Cup Crafts, games & Pool fun.
Check our web-site for more details & daily planner.
— www.afterschoolfunclub@torbayschool
Y6 GRADUATION – Y6 Graduation will be held on Tuesday 15th December in the School Hall. Students need to be at school by 5.45pm. Tickets have gone home, if you haven't RSVP'd yet please do so asap. Please note: Due to capacity reasons only Y6 students and their parents are invited, if you have any queries please contact Glenys Harwood [email protected]
AWARDS ASSEMBLY – Thank you to all that came to our end of year Awards Assembly.  It was great to see so many parents & whānau here celebrating 2020 with us!  Here are the names of the Tamariki that received Special Awards Certificates.
Year 0-1
Room 11
Room 11a
Room 12
CARE:

Amelie U

CARE: Indie W
CARE: Gabriella K
Effort: Coby A
Effort: Shekinah K
Effort: Bella G
Academic: Jake S
Academic: Teo F
Academic: Fletcher B
| Room 13 | Room 14 | Room 15 |
| --- | --- | --- |
| CARE: Lea C | CARE: Victoria C | CARE: Scarlett A |
| Effort: Evie H | Effort: Odelia W | Effort: Morgan I |
| Academic: Mateo N | Academic: Baxter M | Academic: Morgan I |
| Room 16 | | |
| --- | --- | --- |
| CARE: Juliet R-P | | |
| Effort: Savannah L | | |
| Academic: Joshua B | | |
Year 2
| Room 3 | Room 4 | Room 5 |
| --- | --- | --- |
| CARE:Tom P | CARE: Neva T | CARE: Ethan D |
| Effort: Pyper S | Effort: Kevin L | Effort: Anna E |
| Academic: Sophia W | Academic: Lucas M | Academic: Ella C |
| Room 6 | | |
| --- | --- | --- |
| CARE:Greta B | | |
| Effort: Sam B | | |
| Academic: Ines M | | |
Year 3
| Room 7 | Room 8 | Room 9 |
| --- | --- | --- |
| CARE:Sienna D | CARE: Jaxon T | CARE: Jagger C |
| Effort: Levine P | Effort: Rowan W | Effort: Jason D |
| Academic:  Isaiah S | Academic: Toma B | Academic: India R |
| Room 10 | | |
| --- | --- | --- |
| CARE:Rachel R | | |
| Effort: Hannah T | | |
| Academic: Benji B | | |
Year 4
| Room 21 | Room 22 | Room 23 |
| --- | --- | --- |
| CARE: Zyrah d-S | CARE: Finn B | CARE: Max B |
| Effort: Bill H | Effort: Isobel O | Effort: Cooper L |
| Academic: Finn M | Academic: Jack H | Academic: Quentin R |
Year 5
| Room 1 | Room 2 | Room 24 |
| --- | --- | --- |
| CARE: Edie J | CARE: Eva A | CARE: Paige A |
| Effort: Sammy T | Effort: Fin D | Effort: Agnes K |
| Academic: Kay Z | Academic: Flynn D | Academic:  Luca A |
| Room 25 | | |
| --- | --- | --- |
| CARE:Rose B | | |
| Effort: Hank R | | |
| Academic: Sienna L | | |
ICAS High Distinction and Distinction Awards
| Name | Award |
| --- | --- |
| Tiger Z | For receiving High Distinction in Science, English and Mathematics. And Distinction in Digital Technology. |
| Betty S | for receiving High Distinction in English. |
| Irene L | for receiving High Distinction in Mathematics |
| Kay Z | for receiving High Distinction in Science. And Distinction in Mathematics. |
| Taya GT | For receiving Distinction in Science, English and Digital Technology. |
| Nathan B | for receiving Distinction in Digital Technology, Mathematics and Spelling |
| Olivia R | for receiving Distinction in English and Spelling. |
| Corey Z | for receiving Distinction in Math and Science. |
| Flynn D | for receiving Distinction in Science and Spelling |
| Chloe M | for receiving Distinction in English and Science. |
| Wendy X | for receiving Distinction in Mathematics. |
| Cailean R | For receiving Distinction in Digital Technology. |
| Elsie B | for receiving Distinction in English. |
| Wota L | for receiving Distinction in Mathematics. |
KA PAI!!!!!
PMP A huge thank you to the continued support of my PMP helpers this year, without your help this program would not be able to run, the students have benefited from your passion to this program. We have shared many laughs along the way, any of you who are happy to return in 2021 will be  welcomed back or if you want to join contact me. Debbie Abbott [email protected]
LUNCHROOM – A huge thanks to our wonderful Jade for running the lunchroom this year. Jade always has a friendly smile and can do attitude! We look forward to you returning next year.  The lunchroom will re-open from, Wednesday 17th February 2021 (3rd week of Term 1). It will be open Wednesday, Thursday and Friday each week.
SCHOOL POOL KEYS – SOLD OUT
ALL LIBRARY BOOKS ARE DUE BACK NOW Please return any outstanding books.  We currently have over a 100 outstanding books!!!!
MOVEMBER – A big thank you to everyone who donated to Movember, thanks to the generosity of the community, we raised $1,510 for Men's health. We look forward to celebrating this event at school in the near future…
Ngā mihi nui,
Mr. Bettin, Mr. O'Brien, Mr. Coyle, Mr. Freeland, Mr. Martin, Mr. Nixon, Mr. Blackburn and Mr. Eades
WATERWISE REGATTA – The team was fantastic , showing their Torbay School skills and values and enjoying their day. The team placed in several of the heats and came third equal overall.  Thank you Mrs Craig and sailors.  You did us proud!!
Hollie Fundraising Wow, what a fantastic day.  We raised over $10,000.00  with the funds of the silent auction still to come.  A final tally will be shared next week.  A huge thank you to the team who put in hours and hours to put this together, Torbay staff who gave up their time and energy to make this a success, to our community and students for the fantastic donations and supporting the event on the day.
A special thanks to the following people who donated their time and goods:
Maclean Family, Kane Williamson, Ray Nixon, Jules and Jeff Hayward, Helen Evans, Gemma Overton, Tim Prier and last but not least our fantastic Torbay PTA.  
to all our wonderful sponsors.  Please pay it forward by supporting them….
Toyworld,  Warehouse, Ecozip Adventures, Bath Boutique-Browns Bay, FLOX, Millennium Institute of Sport, Torbay Butcher, Deep Creek Brews and Eats, Embellished Nail Salon, Mi Chi Massage, Bays Health Pharmacy, Long Bay New World, Bunnings, Bath Buddies, Common Ground Eatery, Torbay Pharmacy, Torbay Upholstery, AUT Millennium, and Cool Kiwi Kids.
AND finally  to our amazing, fantastic, funny, courageous, gorgeous Hollie.  We are all so proud of you and wish you and your family a Merry Christmas and Happy New Year.
CONGRATULATIONS TORBAY SCHOOL!  The annual Browns Bay Santa parade was a hit this year!  Everyone involved had a great time!  Thanks to all who helped create such a wonderful float and a special thanks to Chrysi, Melissa and Kaye for all their hard work!!!
GARDEN TO TABLE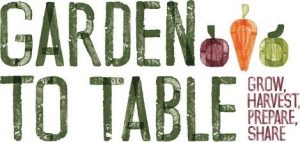 What a year!!!.
In the garden we learnt to plant seeds, repot seedlings, turn compost, prepare soil, to drive a wheelbarrow, harvesting potatoes and finding slugs
In the kitchen we learnt to chop, dice, slice, prepare food, cook food and try something different. Many children tried the recipes at home for their friends and whānau. Many children are now able to prepare, cook and present food that is grown in a garden.  We loved the videos Vicky created over lockdown.
At the end of each session we got to eat together. Just about everybody tried the dishes and found new foods to like and love.
A huge thank you to all the year 6 students, teachers, helpers but mostly Vicky Byard our kitchen specialist and Naomi Gray our garden specialist.
This week was Naomi's last day.  Thank you Naomi for all the work you have done in the garden and good luck to your future ventures.
If you like to find out more or want to come along and help in the garden to kitchen please contact Katie [email protected]
STUDENT VOICE
What Christmas means to me…
Christmas is a time to do stuff with your family and have fun. It is an important holiday and everyone should be able to have one. It is whole families coming together. The whole point of Christmas is to spend time with your family. It is not about the presents. It is nice to see people's faces when they open their presents because they're happy and you can see the joy on their faces.
At Christmas we always have turkey for dinner and cheesecake for pudding. We never really go on holiday for Christmas but it is still fun at home. We normally go to our next door neighbour's house for dinner or they come to us. We always put our trees in the lounge and the lights outside.
By Isobel O, Year 4
| | |
| --- | --- |
| Principal | Gary O'Brien |
| Deputy Principal | Katie Hills |
| Deputy Principal | Glenys Harwood |
| Room | Year Level | Teacher |
| --- | --- | --- |
| 11 | 1 | Susan Ye |
| 12 | 1 | Vicki Crossman |
| 13 | 1 | Vicki Crossman |
| 14 | 1 | Amanda Walenkamp |
| 15 | 1 | Keri Lesorgen |
| 16 | 1 | Kylie Wilson |
| 6 | 2 | Jennifer Dawe |
| 5 | 2 | Nic Davis |
| 3 | 2 | Claire Kelly |
| 4 | 2 | Nikki MacBeth |
| 10 | 3 | Annika Jamieson |
| 9 | 3 | Joanne Northover |
| 7 | 3 | Lorelle Koya |
| 8 | 3 | Paulette Noone |
| 1 | 4 | Graham Eales |
| 2 | 4 | Melissa Craig |
| 24 | 4 | Ingrid Cooper |
| 25 | 4 | Cathy Morron |
| 21 | 5 | Lachlan Freeland |
| 22 | 5 | Renee Heasley |
| 23 | 5 | Megan McIntosh |
| 17 | 6 | Jon Bettin |
| 18 | 6 | Linda Urwin |
| 19 | 6 | Jack Coyle |
| 20 | 6 | Danielle Hodder |
| Role | Name |
| --- | --- |
| Monika Benkovic | PE and Sport |
| Rebecca Buchanan | Release |
| Vanessa Mitschak | ASL + Release |
| Sarah Kilkolly | ASL + Release |
2021 dates for the first  three weeks. Please keep an eye out on the school calendar for other dates
First day back to school Thursday 4th February
Waitangi Day, no school Monday 8th February
Waiheke (year 5) camp 10-12 February
Rakino (year 6) camp 17-19 February
What learning can you and your family do in the holidays?
CLICK HERE to see our learning at home site
COMMUNITY NOTICES:
Conscious kids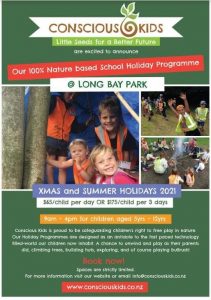 The best gift you can give to your child/children is to allow them to free play in natural settings these Spring School Holidays with CK!
The Conscious Kids Social Enterprise is inviting your children to a 100% play-in-nature school holiday programme.
Nature play free has proven physical, emotional and social health benefits. Our supervised programme allows kids to lead their own activities – mudslides, tree climbing, puddle splashing, hammock and hut building etc. Apart from the obvious safety restrictions and respect framework, there are few instructions for kids.  Our number 1 'rule' is to have fun! Staff are present for supervision and support, but children follow their innate 'readiness meter' to make their own decisions before getting involved in any new situation.  Such child-led play enhances creativity, problem-solving, communication (including listening!), collaboration and many other 21st century skills.
The programme will run during the Xmas (21st, 22nd and the 23rd of December) and Summer Holidays (Tuesday to Thursday from the 12th to the 28th of January), at a cost of $65/child per day.
Daily programmes run from 9 am to 4 pm and are designed for children aged 5 – 12 yrs old. For booking and more information, please visit http://www.consciouskids.co.nz

Print or Save this Post