IMPORTANT DATES AND EVENTS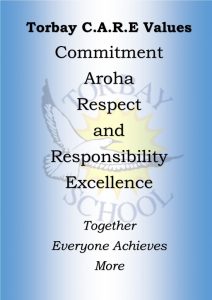 Torbay School Learning Powers – RIC

PRINCIPALS MESSAGE
Tena Koutou e te whanau
Thank you to all who attended He Puna Waihanga Toi ki Te Kura Tuatahi o Whangatoa our Arts and Poetry Festival. Your responses and feedback from the exhibition and performances by our performing arts groups have been very positive and we are grateful for that feedback.
I have to congratulate our Staff and children for the very high standard of art and poetry displayed in the hall and the performances of our various performing arts groups along with a rousing, high quality performance from our Kapa Haka Group on the final day of the exhibition. This was a true team effort with all of our staff contributing in significant ways. As with all events there is a leader who drives and inspires, and I would like to thank Nic Davis our head of Arts for her work and vision.
The Arts are an area of the curriculum that all too often gets left out in many schools. I am pleased to say that at Torbay we make an effort to ensure that we include both performing and visual Art into our programme. We recognise the importance of being exposed to the arts and the influence it can have in later life. Through the arts children learn a number of skills, values and competencies that are key to success in future life.
Our NZ Curriculum says:
Learning in, through, and about the arts stimulates creative action and response by engaging and connecting thinking, imagination, senses, and feelings. By participating in the arts, students' personal well- being is enhanced. As students express and interpret ideas within creative, aesthetic, and technological frameworks, their confidence to take risks is increased. Specialist studies enable students to contribute their vision, abilities, and energies to arts initiatives and creative industries.
In the arts, students learn to work both independently and collaboratively to construct meanings, produce works, and respond to and value others' contributions. They learn to use imagination to engage with unexpected outcomes and to explore multiple solutions.
Many of the above competencies are critical in achieving success in the modern workplace and are indeed the skills employers are looking for when selecting staff.
At Torbay School, on a Tuesday afternoon every child participates in 45 minutes of performing arts. This may be in one of our large performance groups or a smaller classroom-based group facilitated by a teacher from their Whānau. In this way we meet multiple goals and ensure that all children are experiencing participation in the performing arts. There is much evidence that exposure to the performing arts enhances learning in other areas and I support the notion that ensuring the arts are delivered in our programme enhances our children's well being and helps provide an engaging and harmonious environment at Torbay.
The international evidence is crystal clear. Children in arts-rich schools do significantly better at the basics than schools which focus on measuring literacy and numeracy outcomes. The arts build the key skills that employers value most highly: risk taking, collaboration, curiosity and an ability to think across rather than in disciplinary silos.
The arts train the imagination. The imagination is vital for individual and social well-being because we can only make our own and others' lives better if we can imagine a different, a better world. The arts are carriers of hope, and young people need hope like a fish needs unpolluted water.
This statement taken from an opinion piece from Professor Peter O'Connor of Auckland University, published in 2020 following the abolition of National Standards states the case for the promotion of the arts.
Last Week at the New Zealand Principals Association conference Pasi Sahlberg a world renown educator, author and scholar emphasised one of the to very important elements that makes the Finish education system world leading is that Music is compulsory in all primary schools.
I am proud to say that we are working hard to ensure that the Arts remain alive and well at Torbay School and thank our teachers for sometimes stepping outside their comfort zone and deliver this vital part of the curriculum.
New Buildings
I am pleased to say that on Friday of this week two of our year 3 classes will move into their new classrooms. The finishing touches of the stairs and concrete will be completed during the holiday period and room 5 and 6 children will become room 7 and 8 children on the first day of next term.
At the end of week 1, rooms 9 and 10 children will move to the new rooms.
Quiz Night
Congratulations to our PTA for the wonderful quiz night. Thank you also to our community for your participation and support. Through sponsorship and fundraising on the night we raised $13,300.00 towards our gardens which continue to progress. There is still a lot of work to do to finish the project but excellent progress has been made.
Staffing
It is always sad to say goodbye to staff. Graham Eales has been a member of our staff for 3 years and has decided to move on to further develop his career. Graham has been a valued member of staff active in many aspects of school life including Sports, ICT, Curriculum development and of course his classroom teaching. I congratulate Graham on securing a new position at Westbridge Special School and know that he will bring energy and skill to his new role there. I also thank Graham for all the work he has done here at Torbay, I know he will be missed by students and parents alike.
Graham will leave Torbay on the last day of this term. He will be replaced by JoAnne Sutton a very experienced teacher whom I welcome to our staff for the remainder of this year.
I wish you all well for the holiday period, hope that you get to spend some quality time with your children. Thank you for your continued support with all that we do at Torbay School.
Nga mihi nui
Gary O'Brien
Principal
ACOMPLISHMENTS
CONGRATULATIONS to the following tamariki who received certificates from their class teachers: Adi & Keira Rm 1, Iseo & Sophie Rm 2, Alexa & Jacob Rm 3, Leyi & Willa Rm 4, Charneli, Aven & Peyton Rm 5, Theo & Brodie Rm 6, Peyton, Kosta & Calum Rm 9, Piper & Charlie Rm 10, Logan, Brayden, Maxim & Jack Rm 11 & 12, Bella & Brahmpreet Rm 13, Shiloh & Evan Rm 14, Elijah & Aria Rm 15, Wolf & Mia Rm 16, Alan & Brooke L Rm 17, Kaila & Alex M Rm 18, Mika & Harley Rm 19, Eason, Eliza & Baxter Rm 20, Max & Kayla Rm 21, Taylor & Onyoo Rm 22, Quinn & India Rm 23, Claire J & Thomas Rm 24, Jack & Kai Rm 25, Theo & Joshua Rm 26, Max P & Yolanda Rm 27, Avleen & Matthew Rm 28  Well done!!
KA PAI to the following students who have shared their fantastic learning with us this week: Adi Emerson-Sykes Rm 1, Naomi Rm 9,  Keep up the good work! 
RICC REWARDS, for displaying our C.A.R.E Values – Harper Rm16, Max S Rm 28, Beau Stephenson Rm 25, Connor Rom 14 Ka pai!
KA RAWE AWARDS,  For using Te Reo Māori at school – Bede Rm 27, Elijah Rm 15, Piper 10 Tino pai!
GENERAL REMINDERS
| | | |
| --- | --- | --- |
| TERM DATES  | 2024 | |
| Term 1 | 1 February 2024 | 12 April 2024 |
| Term 2 | 29 April 2024 | 5 July 2024 |
| Term 3  | 22 July 2024 | 27 September 2024 |
| Term 4 | 14 October 2024 | 18 December 2024 |
NOTICES 
Lost property will be on display outside the hall every day until Friday morning.

Please collect anything that belongs to your family.

Clearly marked items will be returned to your child.

Remember to use your name and surname, no initials
We would really appreciate it if you would have a look around home and return any Torbay School Library books and readers to your class ASAP.  No questions asked!
Thank you for your support.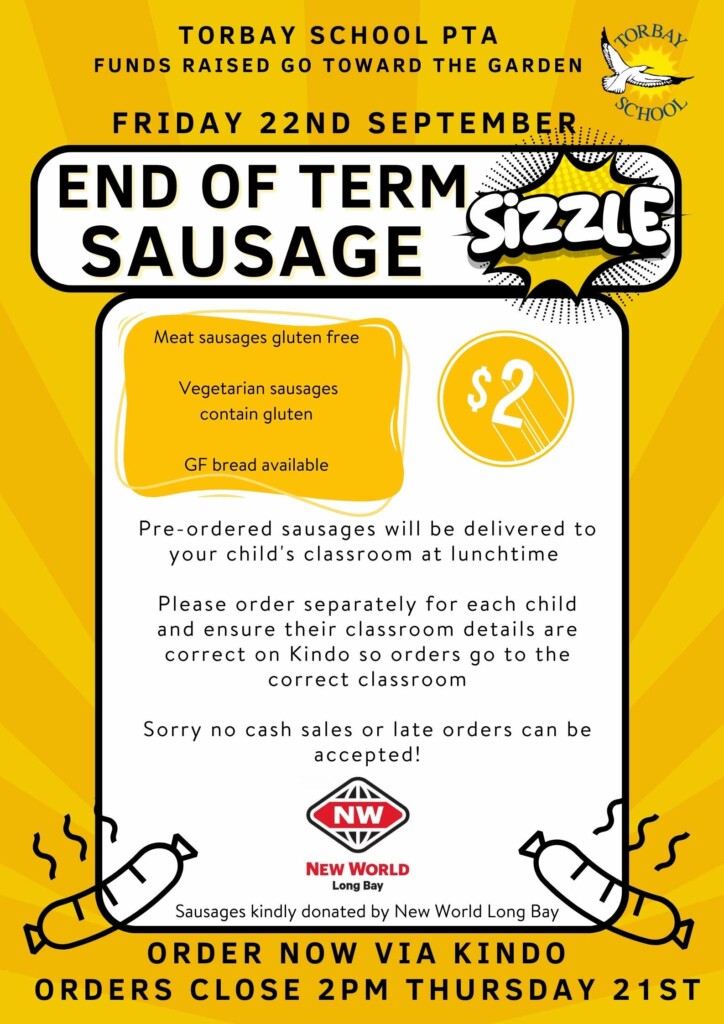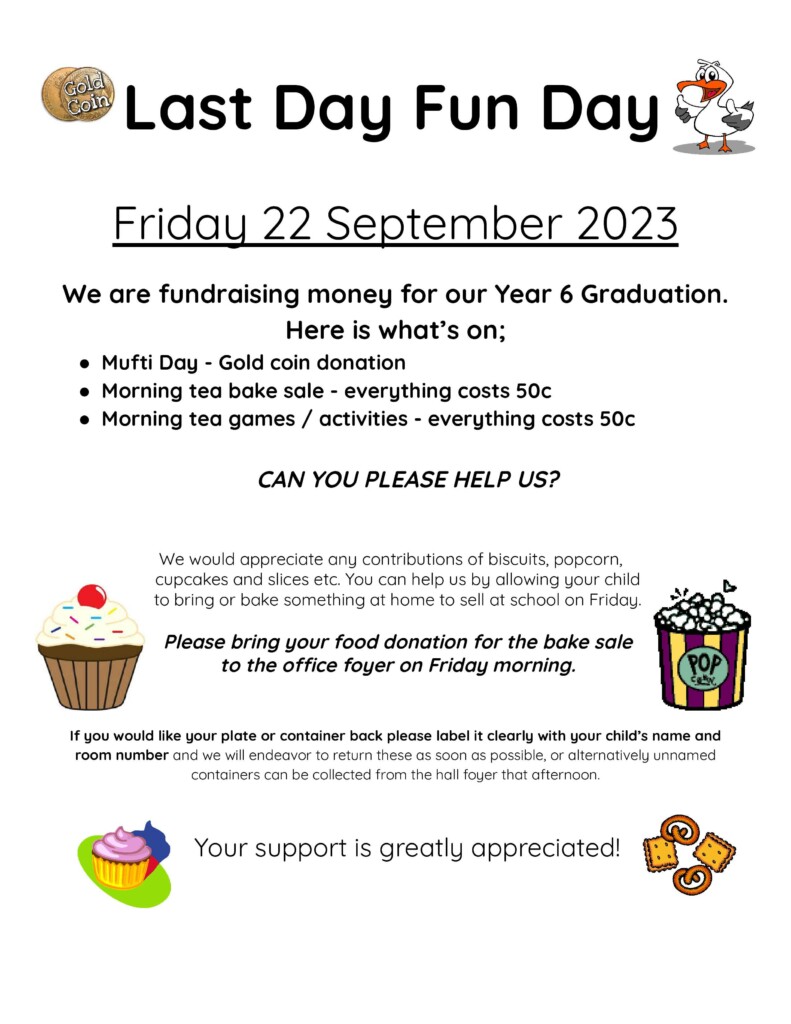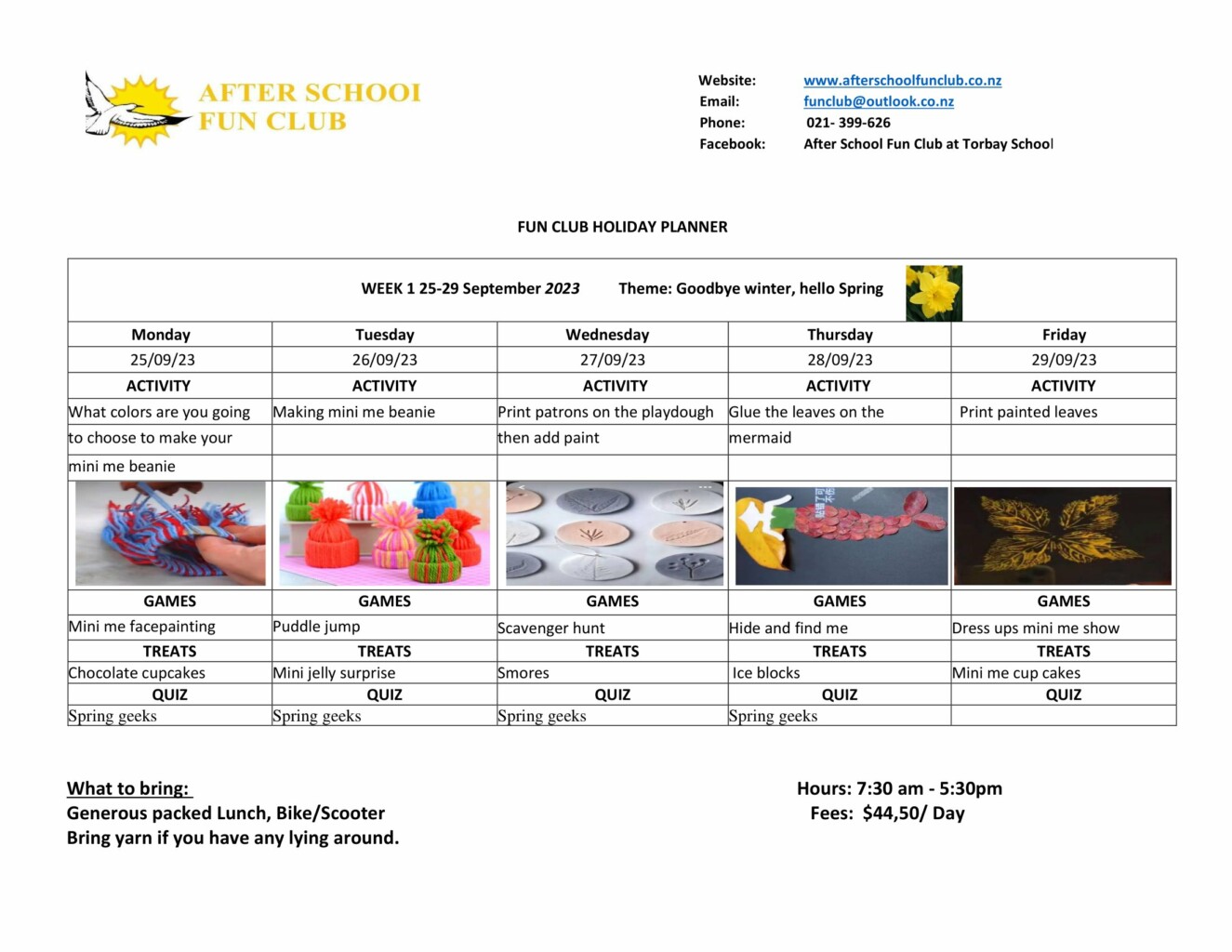 Print or Save this Post