IMPORTANT DATES AND EVENTS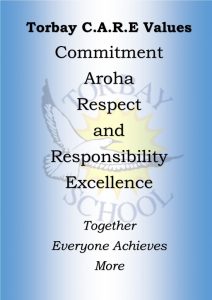 Torbay School Learning Powers – RIC

PRINCIPALS MESSAGE
Tēnā koutou katoa
Colour Run
Thank you to all who supported our Colour Run on Saturday. This was just an amazing day full of fun and community. My admiration goes out to our PTA and in particular to Mel Clark our PTA Chairperson who has worked so hard all year to make events happen only to have them dashed by Covid. I was so pleased to see this event go ahead and our PTA got it completely right in raising funds for other people rather than ourselves. This year has made me continually think about being grateful for the life I have and made me even more aware of the inequities in our world. That we should raise money for Kidscan and for Hollie Beattie, one of our own who is in need, was totally appropriate. 
The day was joyous, and it was wonderful to see so many of our Torbay families out enjoying themselves.
Once again a big shout out to our staff for turning out in such big numbers to support the day! 
Arts and Cultural Festival
Our Arts and Cultural Festival opened last night with a large crowd gathering to watch our Junior and Senior Kapa Haka kick the event off. The children's art work looks fantastic and once again this provides us with a wonderful opportunity to come together to celebrate our children's endeavour and achievements. Nic Davis and her Art curriculum team supported by Sarah Kilkolly, along with all of our teachers have worked extremely hard to bring this celebration together. Please take the time to visit the hall over before closing time on Friday.
Teacher Only Day
I would like to remind you that we are holding a Teacher only day on Monday. This day is specifically designed to help our teachers prepare for next year and in particular focus on ways of collaborating as teachers with a view to moving into our new building in April next year.
Fundraising for Hollie
We are also holding a special Fundraising day on Friday the 4th of December to raise funds for Hollie Beattie and her battle with Cancer. There will be a lot happening on that day and the school will be open to Caregivers, parents and other family. Please come along with some cash in your profit and enjoy the day! We have advertised drop of days for items required for stalls on the day, please keep your eye on our communications over the next week.
Reports
This is a busy time of year and our teachers are currently in the middle of writing end of year reports. They way we report at Torbay School is changing and our reports this term will more reflect Skills, Values and Knowledge.
Skills represented by our Learner powers are the attributes that we feel will benefit children as they grow and develop. The learner powers are a kete of tools that children and adults could carry with them throughout their life and support them to achieve success. 
The Torbay Care Values are a range of values that children can call on to enable them to make good life decisions and contribute positively to a community, whānau and workplace.  
Knowledge represents the content of the New Zealand Curriculum (NZC). At Torbay School, we take an integrated approach to the curriculum utilizing the full breadth of the NZC to ensure children have a wide range of opportunities to succeed and express their strengths. 
Our report will be a celebration of your child's abilities and we strongly believe that the three areas that we report against are equally important. They contribute to the development of the whole child, and all of these areas play a critical part in Learning for Success.
Class Placements
Class placements for next year are well underway and I thank those people who provided me with feedback to help with those placements. Your thoughts were taken into consideration and we will do our best to ensure that all children are placed in a classroom that we think will best suit their learning and wellbeing needs. Once we have settled on the classes classrooms and teachers for next year we will organise a day for children to spend time with their new teacher in their new classroom.
I once again thank you for the tremendous support you all give the school. It has been wonderful to see so many people in and around the school during recent events. Please do not hesitate to contact me on any matter.
My email address is [email protected]
Ngā mihi nui
Gary O'Brien
Principal
---
ACCOMPLISHMENTS 
KA PAI to the following students who have shared their fantastic learning with us this week: Sebastian, Easen, Scarlett & Michaella Rm 15, Dar Rm 22, Asya Rm 25 Nice work!
CONGRATULATIONS to the following tamariki who received certificates from their class teachers: Annabelle & Elsie Rm 1, Ben C, Emily B, Natalie, Sienna & Josh Rm 2, Lottie, Hunter, Jake & Sophia W Rm 3, Hao & Elijah Rm 4, Anna, Daniel, Nate & Xander Rm 5, Delilah, Evan, Megan & Greta Rm 6, Nicky, Cody, Kayleb & Alan Rm 7, Rowan, Quinn, Isaac & Amelie Rm 8, Matteo, Alex, Marcus & Rhys Rm 9, Jacob & Piper, Theo & Tyler Rm 11, Isaac, Ida, Raymond & Norris Rm 11a, Gabriella & Madeleine Rm 12, George, Lilly, Dylan & Lea Rm 13, Vainga & Cara Rm 14, Elise, Lucca, Liam & Jasper Rm 15, Olivia & Jasmine Rm 16, Malika, Kale Maia C & Blaine W Rm 17, Cailean & Abby F Rm 18, Sophia, Cooper, Sophie D & Lawrence Rm 21, Alesha, Wota, Regardt, Aspen, Baxter & Jackson Rm 22, Claudio, Brayden, Chloe & Chantelle Rm 24 Irene, Asya Rose & Stella Rm 25 Well done!!!!!
RICC REWARDS, for displaying our C.A.R.E Values – Annalise Rm 3, Ethan G & Michelle Rm 6, Benji Rm 10, Jaxon Rm 11, Peyton H Rm 11a, Sebastian Rm 12, Eva & Victoria Rm 14, Michaella M Rm 15, Carter, Teagan, Sam H, Jack & Koji Rm 17, Tayla Rm 18, Maia Rm 22, Jacques Rm 23, Luca Rm 24, Ka pai!
TE REO AWARDS – Sophia Rm 3, Levine, Jack & Sawyer Rm 7, Luca J & Mia Rm 9, Charlie Rm 11, Toby 11a, Sebastian Rm 15, Julia, Noah & Chloe M Rm17, Sadie, Rita & Finn M Rm 21 Tino pai!

YUMMY STICKERS – Eva Rm 2, Michaela B Rm 5,  Jack O Rm 7, Alex M, Ari & Lachlan Rm 9 Archer Rm 12, Hollie Rm 7, William Rm 24, All of Rooms 13, 14 & 16, Indiana Rm 13, Jed, Abby F, Tiger & Tayla Rm 18, Max K Rm 19, Teagan Cooper Rm 20, Zayra Rm 21, Eddie M Rm 22, Sonja Rm 24 Awesome work!
SCHOOL NOTICES
MEETINGS – The next B.O.T Meeting will be held on  Wednesday 2nd December @ 7pm in the Staffroom.
ART FESTIVAL – Wednesday 25th – Friday 27th November – Our Art Festival opened yesterday, open hours are as follows:  Friday 8.30am – 9.30am and 1.30pm – 3.00pm. Come along and check out the awesome art creations that our tamariki have made. All welcome! See some photos below and click here to view some of the performances on opening night. 
MUFTI DAY AND FUN MORNING TEA FOR HOLLIE – FRIDAY 4th DECEMBER – We are holding a fun mufti day to support Hollie.  It will be a fun filled day for children and any families who are able to come too.  In the coming days we are hoping for some items to be donated in order to make this day successful: We are collecting the following items on Friday 27th November: LUCKY DIP If you have any small items (e.g. toys, glow sticks, etc.) please send them along to the office foyer. Tuesday 1st December: FACE PAINT / HAIR CHALK or SPRAY / NAIL POLISH Please send along any donations to the office foyer. Wednesday 2nd December: PLANT STALL, BOOKS & TOYS   we will be taking donations of potted plants or if you have any new or near-new toys or books that you no longer want, please send them to the office foyer.  Thank you for supporting us with this.
CELEBRATION OF LEARNING AWARDS ASSEMBLY – THURSDAY 10TH DECEMBER Awards assembly will be held @ 1.15pm in School Hall. All welcome.
Y6 GRADUATION EVENING, TUESDAY 15th DECEMEBER – Y6 Graduation will be held on Tuesday 15th December in the School Hall. Invitations came home today with more information. Please note: Due to capacity reasons only Y6 students and their parents are invited, if you have any queries please contact Glenys Harwood [email protected]
FRIDAY WHEELS DAY Y's 1-5 Wheels Day will be held every Friday for Years 1-5 after lunch eating. Only on Waterwise Fridays
PHOTOLIFE SHOOT KEY CODES – Will come home next week. 
ALL SCHOOL LIBRARY BOOKS ARE DUE BACK  –  In order for us to start our end of year stocktake please return any outstanding books.
SCHOOL POOL KEYS – Have SOLD OUT!
SCHOOL FEES – A reminder that if you are paying off your annual donations – instalment 4 was due on the first day of term.
Donation (1 child) $45 per instalment
Donation (2 children) $80 per instalment
Donation (3 or more children) $107.50 per instalment.
Electronic statements will be sent out early next week showing any unpaid amount on your account (the system automatically sends these with the email subject line of Request for Payment). This is a chance to check that our records agree with yours. Please contact [email protected] if you have any queries.
SCHOLASTIC LUCKY BOOK CLUB ISSUE 7 & 8 –  Issue 7 orders have gone home. Issue 8 brochures have gone home. Christmas is coming and there is some great gift ideas for children! Over the counter orders must be into the office by tomorrow Friday 27th November @ 3pm or even easier, order online through the LUCKY BOOK CLUB LOOP.  Any orders that are gifts need to be marked 'GIFT or HOLD AT OFFICE' please.  Thank you for your support this year. We have added valuable resources to our School Library with rewards received from all your orders.
AGE CONCERN COLLECTION – Wednesday 2nd December –  For many years Torbay School has collected donations for our local Age Concern group who then distribute these. This year is no different particularly as many elderly still feel unsafe and isolated more than ever because of COVID. Sadly some of our elderly don't necessarily have any friends or family to visit. This is particularly difficult at this time, to have no one to share the aroha & joy of the Christmas season. We are hoping you can help us by donating the following items.

non-perishable food items and treats

any other appropriate treats or vouchers
These unwrapped items can be dropped off under the Christmas tree in the school foyer.
AFTER SCHOOL FUN CLUB
at Torbay School Holiday programme dates: Nov 30th Monday Teacher Only day 7.30 – 5.30pm, Dec 16th 12.30 – 5.30pm Half Day, Dec 17th, 18th, 21st, 22nd  Full Day 7.30 – 5.30pm, Theme Christmas crafts, games & swimming. Jan:  Re-open 18th – daily until school starts 7.30 – 5.30pm.   Theme:  America's Cup Crafts, games & Pool fun. Check our web-site for more details & daily planner. Book on Enrolment form under holidays 
www.afterschoolfunclub@torbayschool
GARDEN TO TABLE – We need a new Chief Gardener and Tutor.
We have been running this programme successfully at our school for two years. In it we teach children about sustainable practice – growing vegetables and then preparing them to eat as delicious meals. It is a very hands on experience for them and they learn by doing.
To run the programme successfully we employ 2 adult assistants who liaise with our year 6 team and Deputy Principal Katie Hills. We are looking for someone who is passionate about gardening and has the skills and knowledge to develop and build on the terrific work that has been put into our school garden under the guidance of Naomi Gray. Unfortunately Naomi can no longer commit and we are looking for a new gardening guru.
The successful candidate will be employed as a Teacher Aide and will work 4 hours a week with our year 6  children to maintain our gardens and provide produce for our children to create meals for our Table.
If you are interested could you please contact Katie by email [email protected]

Attention any catering company within the Oneroa Kāhui Ako who can cater for 300 plus people
Our schools in the Oneroa Kāhui Ako (Long Bay College, Long Bay Primary, Glamorgan, Torbay, Sherwood, Oteha Valley and Northcross Intermediate) will be holding a Teacher Only Day on 1st April 2021 and would like to provide lunch for the attendees. We will have approximately 350 people attending and would like some kind of packed lunch that can be either delivered to one venue if we remain in Covid Alert level 1, or to each school instead if we are at Alert level 2. If we should move to Alert Level 3 then the day would be cancelled. Could this be your company? If so please contact either Rose Neal at Oteha Valley School (09 477 0033) or Janet Pinchen at Glamorgan School (09 473 6453).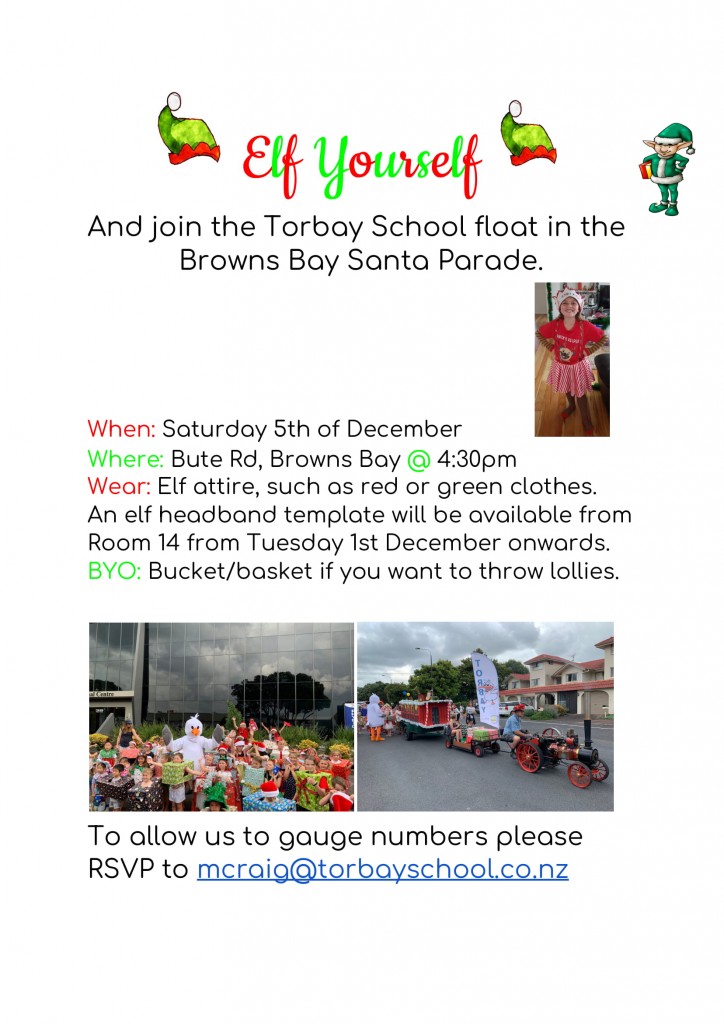 GENERAL REMINDERS
LOST PROPERTY –  The lost property area is growing in the corridor by Room 1. If you are in school please take some time to check this area.  We will also have this on display outside rooms 1 & 2 on Wednesday & Thursday next week.  Please note: any unnamed lost items that haven't been claimed by Friday will be donated to the uniform shop or the clothing bin. Thank you.
SCHOOL POOL INFORMATION & REMINDERS:
Teachers will let you know which days your child is swimming.
This year, swimming caps must be worn for all swimmers.
You can purchase fabric caps from $3.00 from a variety of retail stores like Kmart.
Please do not apply sunscreen just before entering the pool as this causes issues with our PH levels.
All swimmers must use the shower prior to entering the pool.
We also ask that you do not use beach toys in the pool.
In previous years we had a number of issues with hair and sand blocking our filtration system causing us to close the pool on several occasions. Hopefully the above measures will ensure an uninterrupted swimming season.
Pool is open to the public who have keys from 4pm – 7pm on weekdays (3-4pm is used for cleaning and balancing the pool.) and weekends and holidays 9am – 8pm.
Please supervise your children at all times in our school pool. The Pool is under 24 hour camera surveillance for your security.
HEALTH ROOM REMINDERS:  Please do not send any children to school who are unwell. 
If your child is sick please stay home and follow the guidelines for the illness and stay home for the recommended time frame set by the Ministry of Health.
VOMITING/DIARRHOEA: Any children who have had vomiting or diarrhoea must not return to school until 24 hours after the last episode.
SORE THROATS:  If your child has a sore throat, please keep them at home.  For more information click here 
STUDENT NEWS
Y6 CAMP – A HUGE thanks to all the teachers, parent helpers and volunteers that helped make our 2020 camp a success, we really appreciate your help and wouldn't be able to do it without you!! Our tamariki (and adults) had an amazing time and were exhausted afterwards! See the student voice and some photos below!
Jessica's Camp Recount 
"Run!" I shouted to the people around me as I saw an adult carrying a wet sponge darting towards us. When everybody bolted at the same time I felt like I wasn't going to make it, because it was like I was in the middle of a mad stampede scuttling away from a predator. 
As we sprinted off the wood walkway I knew I wasn't safe for long because I knew an army of parents were right on my tail. As I went closer to the woods my senses were higher than ever as I suddenly spotted a badly camouflaged adult between the thick leaved trees.
 "I see you!" I shouted to the adult. She didn't move. Not a muscle. She must've thought that if she stood still I wouldn't suspect a thing. 
Then I noticed a paint pot in her hand and immediately realized my mistake. She was a friendly adult, not the mean and cruel ones with damp clothes. So I went closer to get my colored stripe. 
By Jessica O Rm 20
Y5 PADDLE BOARDING TRIP – Last week the Year 5s went paddle boarding for our final trip of the year. SUP Bro Tours took us out on the water once again for an awesome day. Not only did we get to go on XL boards which hold up to 10 students, but we also did a beach clean up, ABL (Adventure Based Learning) games, and a scientific investigation about what you can find around our shores.  Massive thanks to our parents and SUP Bro Tours for making the day happen. It was absolutely amazing.
MUFTI DAY & FOOD DRIVE – Thanks to all that donated towards our mufti day and food drive! We raised $672 for Foster Hope! Ka pai!! Here are some photos of our Student Leaders sorting the donated items!
COLOUR RUN- Thanks to all that came along to Colour Run!  What an amazing day that our hard working PTA put on and to all the staff and helpers too! We couldn't have done it without you!  We raised just shy of $3000 for Kidscan (both ticket sales and the raffles) Ka pai!!!!  Special thanks to all the parents and teachers who donated baking for the bake sale – there was A LOT and some ridiculously amazing stuff there.  The love felt for Hollie was quite overwhelming. Amount raised for the Hope for Hollie campaign through the Bake Sale alone was $1218.90!!  Such a good effort.
Here are some photos of the day and another special thanks to
Jake Bennett
who was our photographer for the day please
click here
to see his work they are amazing!