IMPORTANT DATES AND EVENTS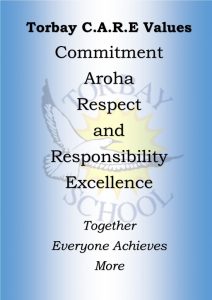 Torbay School Learning Powers – RIC

PRINCIPAL'S MESSAGE
Tēnā Koutou e te whānau
It is wonderful to be back at school!
It was wonderful to stand at the gate on February the 7th and welcome children and parents back into school without restrictions. Thank you to all those parents and new students who participated in our powhiri to welcome new whānau to our school. 
The beginning of the year is an exciting time as we welcome new Whanau to Torbay School. This year is no different. We have a large number of new children joining the school both in Tiri Tiri Year one and further up the school as whanau have moved into our area. We welcome you to our community and our school. Please take up all opportunities you can to become involved in school life and please make yourself known to me at any opportunity. 
Staff
It always gives me a great deal of pleasure to welcome new staff members to Torbay School. 
This term we welcome Samantha Wenzlick . Sam is currently stepping in for Kylie Wilson who remains on maternity leave for the first term. Sam is working in room 12.
A huge welcome to our two new administration staff, Amy Watson and Faye Stewart who have already settled into their jobs and look remarkably at home despite the disruptions we have experienced.  We look forward to the contributions they will make in future years in this very important role.
I would also like to welcome Miles Palmer and Addison Stewart who have joined us as Learning Assistants in Rakino and Kawau Teams. Miles and Addison have already made an impact and we look forward to them becoming a part of the Torbay Whānau.
I would also like to congratulate Nikki Macbeth who takes up her role as Deputy Principal and SENCO. Nikki has hit the ground running and I look forward to working with her in the Senior Leadership Team. Nikki will also retain her leadership of the Year 1  Tiri Tiri team for the duration of term 1 while we appoint a new leader.
Whanau Feedback and meet the teacher picnic.
Thank you for your attendance at our parent information evening and picnic. It was terrific to see a really good turnout and plenty of families taking advantage of the good weather to have a picnic with their whānau and friends.
Next Tuesday and Wednesday we will be holding our Whānau Feedback evenings. This provides you  with an opportunity to share information about your children. The more we know about your children and their approach to school and learning the better job we can do.  The most important factors in successful teaching and learning is the relationship between teacher and student, these meetings help facilitate that relationship and the relationship between home and school. Please ensure you book for your meeting!
Getting to School.
This year we want to encourage children and families to walk, bike or scooter to school rather than drive. The benefits for both our environment and our personal health and wellbeing are well-documented and we urge you to consider this option for your children. We will in the coming weeks be asking for volunteers to initiate and run the walking school bus which has in past years been a feature of the school. The walking school bus has slowly ceased to exist over the last three disrupted years and we are very keen to reintroduce it in 2023. If you would like to volunteer to help with the walking school bus please contact Sam Coyle who is our travelwise leader for 2023. [email protected] 
Bicycles and Scooters 
Only Year 5 and 6 children are permitted to ride a bicycle/scooter to school unaccompanied – they must firstly complete a Bike/Scooter licence form which can be obtained from the office and signed by their parents, requesting permission to do so. It also gets approved by the Principal.  They must follow all safety rules, wear shoes, a helmet and should bring a padlock to secure it in the appropriate place.  They will be provided with a school licence showing they are able to bring them to school.
Younger children are able to ride bikes and scooters to school but must be accompanied by an adult.
We have a wonderful staff who have once again adapted, swiveled and worked incredibly hard to prepare for 2022 and I thank them all for a great start to the year.
Paid Union Meeting 2nd of March
The NZEI is currently negotiating the teacher's collective agreement and has scheduled a paid Union Meeting for Thursday the 2nd of March.  With the increasing cost of living, Teachers are looking for a fair boost to their pay packet and these meetings are critical to reaching a resolution. We ask that you support us by collecting your children at 12.30pm. Those children that can't be collected by their parents will be supervised by a small group of our staff who will not be attending the Paid Union Meeting.
Parent Helpers
We recognise the many pressures on parents in today's world, we understand that time is precious and the pressure of work to meet the ever-increasing cost of living. We do however urge you become a parent helper at Torbay School if you can spare some time to do so. We need parent helpers in multiple areas including: Sports Coaches, Garden to table, Waterwise, Walking School Bus, Crossing Patrols, Camp  Helpers, PMP (Perceptual Motor Programme) and classroom helpers. As the year progresses we will ask for help and I urge you to become involved with the school, it is rewarding!
Camps
In term one our years 4, 5 and 6 students all go on camp and this requires a great deal of organising. Please be aware of the forms you are asked to fill in and return them in a timely manner. Please also make the effort to attend camp information meetings all of which will be held in the next three weeks. I also urge you to volunteer as parent help at one of our camps if you have the time, it is a wonderful experience.
Drop off and Pick up.
Finally, I would like to thank you for the way in which the drop off and pick up processes are working. Below is a reminder of the process, in particular I would like to point out the new fence adjacent to the fun club. This is designed so that the children can assemble away from the road in the morning as they wait for the 8.30am bell. Please see our drop off and pick up processes outline below. Please take note that we ask that parents leave the school at 8.50 so that the teachers have only their children in front of them at 8.50 when school starts.
8.30am drop off,  Gates open. No children on site prior to 8.30.

Parents welcome on site and can bring or send children through any gate.

Hooter and message at 8.50am. Parents are asked to leave on this hooter

Children will be able to play in the playground before school and go to class at Hooter

Afternoon Pick up: Gate will be open at 2.55pm for parents to come on site to collect children.  

Whole school finish at 3pm 

Parents are encouraged to discuss issues with teachers after school, not before.
Thank you
Sorry for the long newsletter but we have much happening at school in 2023. Once again thank you for the way you support our school, your children and our staff. I look forward to another wonderful year at Torbay School and witnessing the fabulous things your children do. Please do not hesitate to contact me on any subject.
Ma Te huruhuru, Ka rere Te manu – Adorn the bird with feathers so it can fly
We look forward to providing your children with the ability to fly in 2023.
Ngā mihi nui
Gary O'Brien
Principal
---
SCHOOL NOTICES
2023 Whānau Feedback Meetings
Tuesday 21st February 2023 (3.20pm – 6.30pm)
Wednesday 22nd February 2023 (3.20pm – 6.30pm)
The primary purpose of this meeting is for you as a parent or caregiver to share your son or daughter's interests, strengths and needs. It is a well established fact that a key element to success in the classroom is the relationship children have with their teacher. These conversations will create an opportunity for our teachers to develop a deeper understanding of each and every child's needs early on in the year.  These meetings will all be held face to face at School in your child's classroom.
Each teacher will also provide initial feedback and this is a good time to discuss any particular needs and goals for the year. Our preference is for children to attend, however, if you prefer, your child does not need to be present.  
We will also be using this meeting as an opportunity to update our database with current caregiver and emergency contact details for each student.
There will be a creche available in the library to provide care for your children if needed. We hope this allows you to focus completely on your conversation with the teacher.
Booking:  To book please visit www.schoolinterviews.co.nz/code and follow the prompts:
Enter your details – email address and each of your children's details.
Select the teacher's name for each child.
Choose a suitable time – remember to allow sufficient time between appointments to move to each classroom.
The system is very flexible and enables you to change your times, if your circumstances change.
We appreciate that not everyone has access to the internet so please call the school office on 473 8603 between the hours of 8:30am and 3:30pm to arrange this.
LEARN GUITAR AT TORBAY SCHOOL
My name is Phil Moore and I teach a range of traditional and contemporary styled songs and techniques during school hours on Tuesdays.
The lessons are a lot of fun and ideal for beginners. Here's some of my students in action on my Youtube channel.
You can read some recent referrals here (on the right side of the page).
For more information please contact me at [email protected] or phone 021761441
GENERAL REMINDERS
SCHOOL ABSENCES – Please remember to contact the school office if your child is going to be absent from school.
You can do this by one of the following:
HATS & SUNBLOCK- Hats are now compulsory for students to play outside in the playground.  Please ensure all hats are named. New school hats are available from Janbells in Mairangi Bay and the school office.  Please remember to sunblock your child/ren before school. Thank you for being SunSmart!
LOST PROPERTY – Is in the corridor next to Room 1, if you are missing items please check this area. Please ensure ALL items are named. Lost hats are kept in the office.
HEALTH ROOM:  Please do not send any children to school who are unwell. If your child is sick please stay home and follow the guidelines for the illness and stay home for the recommended time frame set by the Ministry of Health. We have had a number of recent cases of tummy bugs reported. Please remind your children the importance of washing their hands before eating and after using the bathroom to help prevent the spread.
VOMITING/DIARRHOEA: Any children who have had vomiting or diarrhoea must not return to school until 24 hours after the last episode.
SORE THROATS:  If your child has a sore throat, please keep them at home.  For more information click here 
COUGHS & COLDS: If your child has a cough and or a cold please keep your child at home. For more information click on the links coughs 

and

 colds .
HEAD LICE: Check your children for head lice. Children with eggs or lice will be sent home for treatment.
COVID: If your child is displaying signs or symptoms of Covid 19, please stay home and get tested.  Click here for more information. If you are a household contact you must be symptom free and test daily before coming to school. 

Print or Save this Post