International Students
Torbay School prides itself on offering International Students a comprehensive experience
Torbay School is a signatory to the Code of Practice for the Pastoral Care of International Students and all agents and Foreign Fee Paying students must abide the Code to be enrolled at our school.
Below you will find details about the Code of Practice and links to the relevant organisations that can assist you. Copies of the Code are available from the New Zealand Ministry of Education website 
Student Learning
Classrooms in the School are a combination of a single cell nature (1 teacher to 1 class) and FLE's (Flexible Learning Environments).  Class programmes are designed to meet the requirements of the National Curriculum Guidelines which all New Zealand schools are required to follow. This   includes instruction in the seven essential learning areas: English, Mathematics, Social Studies, Science, Arts, Technology and Health & Physical Education.
Orientation
Students will be given an orientation on their first day of school. Orientation will include:
An introduction to the classroom teacher, the Principal or Deputy Principal
An introduction to key Administrative staff and International Student liaison personnel
Orientation to the school including the location of the health room and the toilets, where to hang school bags and where to eat lunch
Introduction to the students' New Zealand classroom
Advice on school activities, including sports and music
Special features
Students are mainstreamed in our general classes
Specialised English support programmes are provided by a trained ESOL staff
Support meetings for parents in your home language
Inclusive welcoming learning environments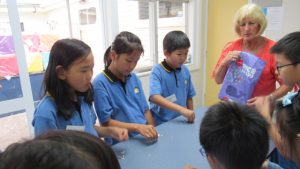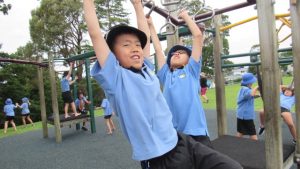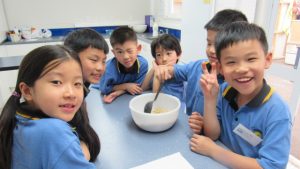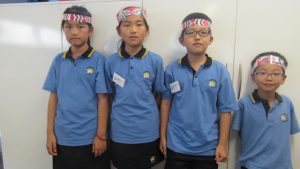 Enrolment Procedure
Before commencement of a full enrolment an International Student Inquiry Form must be completed and submitted to the school by email to admin@torbay.school.nz or posted to Torbay School, Deep creek Rd, Torbay, Auckland 0632, New Zealand.
Once it has been determined that there is a place available for the student, the school will issue the full International Enrolment Contract Form for completion.
From these details an invoice is raised and upon payment of the invoice an Offer of Place will be issued to enable the completion of Visas and other necessary documentation.
Fees
Tuition Fees Include
School sport during the school programme, school trips, (except camp and EOTC) entry fees to all shows by visiting performers, daily
ESOL classes where required and school art supplies.
All prices are in New Zealand dollars and GST of 15% is to be added to all prices listed below
2018 Fees
Price ex GST
One School Year  |  Based on 40 weeks
$11,500.00
For One Term
$3,200.00
For Two Terms 
$6,200.00
For Three Terms
$9,000.00
For Periods less than One Term

(fee per week)

$330.00
Minimum fee at peak times

(when applicable) 

$1,320.00
Government levy

(fee per week)

$9.33
Administration fee per child

(non-refundable) 

$330.00
2019 Fees
Price ex GST
One School Year  |  Based on 40 weeks
$11,500.00
For One Term
$3,200.00
For Two Terms
$6,200.00
For Three Terms
$9,000.00
Short Term

(fee per week)

$350.00
Short Term Minimum Fee
$1,400.00
Government Levy

(fee per week)

$9.33
Administration fee per child

(non-refundable)  

$330.00
Administration Fee
Fees are per application (including extensions of time)
For families enrolling more than one student at the same time, this fee will be at the school's discretion
Additional Costs
Camp
Education Outside The Classroom (EOTC)
Waterwise activities are an additional cost
All stationery
School uniform
Any activities not included as part of the curriculum will attract an additional cost
Visas
Both student and parent/s must have current visas that entitle them to reside in NZ.  You are required to notify the school immediately of any changes in your circumstances:
Contact details – email address; home phone number; cell phone number
Home address – if you move property
Immigration status
Insurance
All Foreign Fee Paying students and their families must have current Medical and Travel Insurance and the school must have a copy of the policies on file.
Refund Policy
Torbay School has a Refund Policy.  If a student withdraws from school:
The parents must apply in writing, to the Board of Trustees, within one month of the last day of attendance, explaining why the student has withdrawn from school and the reasons for seeking a refund.
If the pupil does not attend for more than twenty-one consecutive school days then the school will notify, in writing, to the parents/guardians that the enrolment has been terminated. However, if the parents have previously informed the school that the child will be absent for a period of time, with the reason for the absence, the place will be held, providing all fees have been paid in full, as required.
If the school terminates the enrolment, the school will notify Immigration as required.
If the child's behaviour is of an unacceptable level, then an interview with the child, parents/caregiver and the school will be arranged. If the behaviour does not improve, written notification will be given to the parents. If there is no further improvement, the child be asked, in writing, to leave at the end of term, or sooner if the school decides, and will not be eligible to return the following term. There will be no refunds on fees paid if this occurs. "An acceptable level of behaviour" would be seen as obeying the school rules as set out in the current prospectus.
In all cases of absences, the parents must notify the school by 9am on the morning of the first day of absence, and follow up with a written note of the first day of the child's return to school. If the reason is for an appointment, the school is to be informed in writing the day prior to the appointment, if possible.
If the enrolment application is found to be inaccurate in any way the contract may be terminated.
Forms and Links
To view forms or links, please click the buttons below
Accommodation  |  Homestays
Accommodation
In keeping with government legislation Torbay School will only enrol students who are living with a parent(s) for the duration of their enrolment at our school. This will also be a condition attached to the Student Visa issued by Immigration.
Homestays
Torbay School does offer Homestay accommodation to International Families. If you would like to know more about this contact our International Director
Responsibility for Residential Caregivers
The residential caregiver must immediately inform the School of the following:
Any accident or illness involving students
Any accident or illness involving other household members, which may effect students
Any unexplained behaviour or changes in behaviour
Change of address
If a student leaves without prior notification from the school